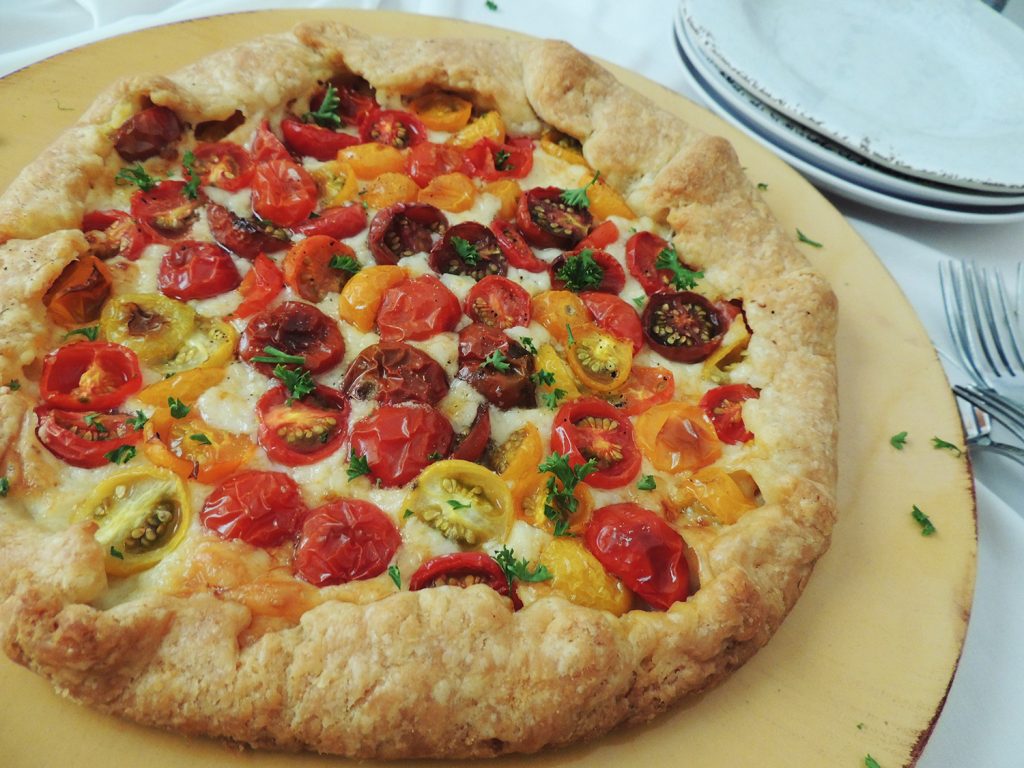 Recipe by Pete Peterson
1 cup all-purpose flour; plus more for the work surface
½ teaspoon coarse salt; plus more for the tomatoes
1 teaspoon baking powder
1 stick unsalted butter, chilled and cut into ½-inch pieces
½ cup crème fraiche, chilled
1 heaping pint tomatoes, a combination of heirloom cherry tomatoes and other tomatoes, cut in half
½ pound semi-hard sheep's milk cheese, such as manchego or pecorino Romano
Combine flour, 1/2 teaspoon salt, baking powder, and butter pieces in the bowl of a food processor. Blend just until the butter is incorporated, and small bits of butter still remain visible. Mix in the crème fraiche until dough starts to come together; don't overmix. Dump the dough onto a large piece of plastic wrap. Shape the dough into a compact, thick disc, wrap tightly, and refrigerate for 1 hour.
Put the tomatoes in a colander and sprinkle generously with coarse salt. Lay the tomatoes on several sheets of paper towel or a clean dish towel to drain. (Dried tomatoes will make a crisp tar
Heat the oven to 425°F. Dust a work surface well with flour and roll the dough into a 12-inch round about 1/8 inch thick. Dust flour under the dough if it starts to stick.
Gently fold the dough in half, place on a parchment lined baking sheet, and unfold. Leaving a 3-inch border, scatter the cheese on top of the dough, then arrange the tomatoes evenly over the cheese. Fold the edges of the dough over the tomatoes, making pleats as you fold, leaving the center of the tart open.
Bake the galette, until golden brown, 30 to 40 minutes. Let cool on a rack.