Scrambled eggs are a staple for breakfast, but versatile eggs are also super convenient and delicious for dinner. Not only are they tasty, they're inexpensive, full of protein, and easy to use in a pinch for a quick dinner. There are so many ways to enjoy eggs for dinner but here are a few suggestions.
Tortilla Espanola
Only four ingredients and so simple. Accompany with a salad and you're set! Get the recipe…
Cheesy Millet with Veggies and Eggs
This recipe calls for zucchini but you could substitute other veggies that you have on hand. Cooking the millet takes about 25 minutes. It's a cinch to put this meal together. Get this recipe…
Warm Spinach Salad with Fried Egg
Eggs and potatoes go so well together. This salad also includes healthy greens for a nutritious, fast dinner. Make this salad…
Cobb Salad
Leftover rotisserie chicken would work great in this recipe. Fry up some bacon, soft cook your eggs, prep the veggies and dressing, and you're on your way to a wonderful dinner. Make Cobb salad for dinner…
Pasta Carbonara Frittata
A hot, easy meal can be on the table in about 30 minutes. (If you have picky eaters you can leave out the peas.)
Avgolemono – Greek Lemon Soup with Rice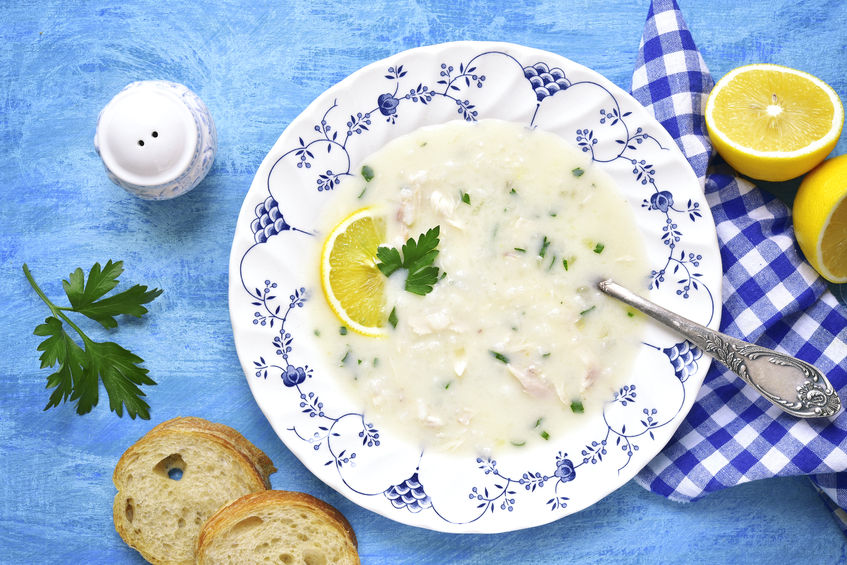 This soup is warm, comforting, and filling. Eggs give it a creamy, silky texture. Add cooked chicken for some protein. Make this creamy soup…
Veggie Migas
Migas is a Tex-Mex dish using leftover tortillas. This recipe calls for asparagus but you could substitute broccoli or green pepper. Make migas….
Eggs in Mustard Sauce
This is a German comfort food dish and it's so easy to make. Serve it with boiled Yukon gold potatoes for a fast and filling supper. Make this dish…