Time to Bake Some Cookies!
The kids are heading back to school…they are going to want a snack when they get home. September and back-to-school is a great time to dust off your stand mixer and start baking some COOKIES! Here are a few excellent cookie recipes that your kids (big and little) will like.
Chocolate Peanut Butter Cookies with Sea Salt
1 1/2 cups whole wheat pastry flour
1/4 teaspoon baking soda
1/4 teaspoon baking powder
½ teaspoon salt
1/2 cup butter, softened
1/2 cup creamy peanut butter
1/3 cup brown sugar
1/3 cup cane sugar
1 large egg, room temperature
1 teaspoon vanilla extract
1 1/4 cups semi sweet chocolate chips
1 teaspoon coconut oil
1 tablespoon Grey Celtic sea salt
Heat oven to 375°F. Mix the dry ingredients together in a bowl.
Cream the butter and peanut butter together in a large bowl. Add the vanilla and sugars and beat well. Beat in the egg until smooth. Add the dry ingredients and mix to incorporate.
Form dough into small balls about 1 inch in diameter. Smash the balls into 2 1/2 inch circles and place on parchment covered sheet pans about 1 inch apart. Bake for 8-10 minutes until lightly browned around the edges. Remove from oven and let cool a few minutes. Transfer to a wire rack and cool completely.
Melt the chocolate chips and coconut oil in a glass measuring cup or small glass bowl in a microwave oven or in a small saucepan over low heat. Stir chocolate until completely melted and smooth.
When cookies are cool, dip half of each cookie in melted chocolate or smear on the chocolate over half the cookie with a spoon. Place on the parchment covered sheets. Sprinkle the chocolate with a few grains of Celtic sea salt. Let cool again until the chocolate hardens before serving. Will keep in an airtight container for 3 days. Makes about 30 cookies.
Gluten-Free Anytime Cookies
From nourishedkitchen.com
1/4 cup coconut flour
1/2 cup almond butter
6 pitted dates, soaked in warm water for 15 minutes
3/4 cup shredded unsweetened coconut
1/2 cup unsweetened apple sauce
2 eggs
1 teaspoon cinnamon
1 teaspoon vanilla extract
¼ teaspoon sea salt
1/2 teaspoon baking soda
2 tablespoons dried cherries
2 tablespoons chopped walnuts
3 tablespoons currants
Preheat oven to 350°F. Line a baking sheet with parchment paper.
Combine the coconut flour, almond butter, and dates in a food processor. Process until well combined and the dates have broken up into really small pieces, about a minute.
Add the shredded coconut, applesauce, eggs, cinnamon, vanilla, salt and baking soda and process for 30 seconds until a wet dough forms.
Add in the remaining ingredients, and pulse once or twice until the fruit is incorporated into the dough but not chopped up.
Using a small ice cream scoop or teaspoon, drop the dough in heaping spoonfuls onto a baking sheet lined with parchment paper.
Dip your fingers in water and lightly press down each ball of dough, shaping them a little. Bake for 12 to 15 minutes, until they are golden on top and slightly brown along the edges. Serve immediately or store in the freezer, thawing for 15 to 20 minutes before you plan to serve them.
Danish Cardamom Cookies
3/4 cup salted butter (1 ½ sticks)
1 cup cane sugar
2 teaspoons cardamom
2 cups unbleached flour
1/2 cup ground almonds
¼ cup milk
1 cup powdered sugar
Whole almonds for garnish
Heat oven to 375°F. Spray 2 cookie pans with cooking spray.
Cream the butter and sugar together until fluffy.
Mix the flour, ground almonds, and cardamom together in a bowl and stir into the butter mixture. Add the milk and stir until dough holds together.
Roll the dough into 1-inch balls. Flatten balls to about ½ inch and dip one side in powdered sugar. Place cookies powdered side up on prepared pan.
Press an almond into the top of each cookie. Bake for 18 minutes or until golden brown.
Chunky Cranberry Chocolate Chip Cookies
1 stick butter, softened
1/3 cup packed brown sugar
1/3 cup cane sugar
1 egg
1 teaspoon vanilla extract
1 cup unbleached all-purpose flour
1/2 teaspoon baking soda
1/2 teaspoon sea salt
1/2 cup regular rolled oats
1/2 cup dried cranberries
1/3 cup chocolate chips
1/2 cup granola
Heat oven to 350°F. Line 2 baking sheets with parchment paper.
Cream the butter and sugars together. Beat in the egg and vanilla.
In a separate bowl, mix together the remaining ingredients. Add dry ingredients to butter mixture and mix until combined.
Drop rounded tablespoons of dough onto prepared pans. Leave 2 inches between cookies. Bake for 12 – 15 minutes or until the edges are lightly browned. Let cool a few minutes, then transfer to a rack to cool completely. Makes about 18 cookies.
Nutty Thumbprint Cookies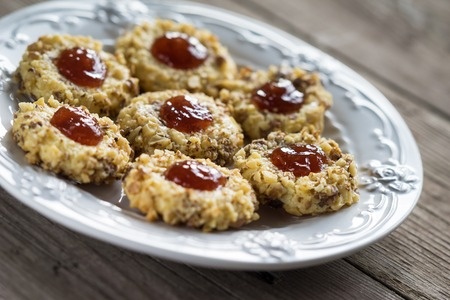 1 cup almonds, coarsely ground in a food processor
1 cup regular oats, ground fine
1 cup whole wheat pastry flour
1/2 teaspoon cinnamon
1/8 teaspoon sea salt
1/2 cup maple syrup
2/3 cup canola oil
fruit jelly or jam of your choice i.e. raspberry, apricot, strawberry
Heat oven to 350°F. Combine all ingredients in a bowl except jelly. Drop by teaspoonfuls onto a greased baking sheet. Make an indentation in each cookie with a spoon or your thumb. Fill each indentation with jelly and bake about 15 minutes or until golden. Makes 16 cookies.