The Life of an Organic Apple Farmer
Bob and Lauri Brown are a living testament to the hard work and dedication required to sustain an organic growing operation in the face of myriad challenges. The couple have been growing organic apples, around 50 different varieties, and other fruits for over 20 years; Bob took over for his father and continued the organic tradition, even though in many ways, the difficulties of growing organically might seem to surpass the rewards.
Pest management and overwhelming paperwork top the list of challenges that face organic farmers. Bob estimates he has spent in the neighborhood of 500 hours on his tractor this summer so far, working even when he wasn't feeling well. But when you stand at the edge of one of several of their tracts of trees at sunset and observe the ripening apples practically glow in the coppery evening light, it's impossible not to feel deep gratitude for their labor of love, one that works in harmony with nature. Bob said that "This year's crop is about average or better." Good news indeed.
Their orchards are just a few miles from picturesque Bear Lake and Lake Michigan. It's refreshing to see tall grass growing all around the trees. This is a sure sign of an organic orchard; the ground in conventional orchards is neat and tidy, devoid of green grass, having been suppressed by herbicides. Knowing that this land is pollinator friendly, with crab apple trees interspersed throughout the Jonamacs and Macintoshs, and bee hives buzzing at the edge of the field, makes you appreciate that there are farmers out there who put environment first. But Bob's bees are suffering like everyone else's. "When we first had bees many years ago, the losses over the winter were about 3%. Now they're at least 75%," he explained. This is sadly in line with trends all over the country. But they still manage to harvest some honey.
Bob is worried about the future of the area's farmers, especially the cherry farmers. "There used to be 40 fruit farms around here" Bob said. "Now there are three." Whenever he and Lauri go to local agricultural meetings, he says they are the youngest ones there. In other words, all the farmers are in their 60s and older. Bob says that not enough young people want to farm because it is very hard work and the financial rewards are limited. And even those who do want to farm are faced with having to secure adequate funding.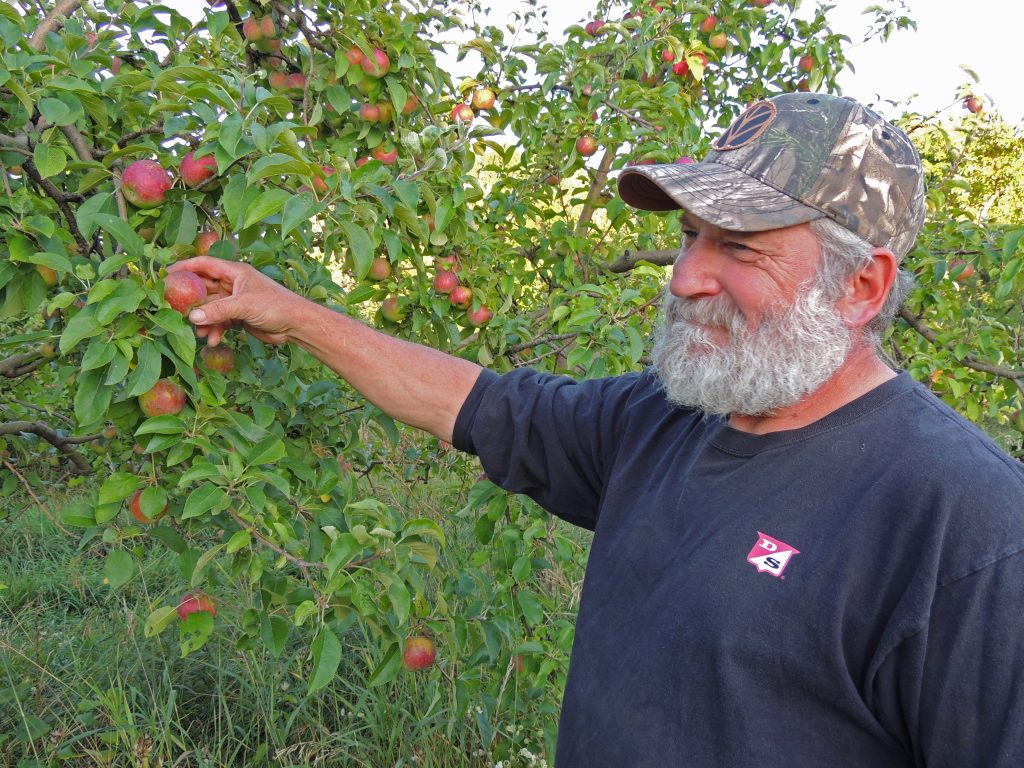 Even though the U.S. organic market in 2018 broke the $50 billion mark for the first time, with sales hitting a record $52.5 billion, up 6.3% from 2017, according to the Organic Trade Association's 2019 Organic Industry Survey, Bob says that it's difficult to find buyers for organic apples. Consumers want picture perfect apples, says Lauri. They don't like tiny blemishes on their apples and won't buy those. They also have to compete with apples from Washington state; the orchards there are basically irrigated desert, so bugs aren't a problem. This is a big factor as Bob pays upward of $60,000 for organic approved chemicals. Some of the chemicals cost $200-$400 per quart! But they are necessary to combat fungus, disease and insects.
This year the Brown's will have 10 migrant workers to help with the harvest. This is a low number compared to years past when they might have had 40 workers. The reason for the decline, Bob explained, is that the workers prefer steady, year-round employment, and many of them now reside permanently in Florida and work in construction and other trades. Bob provides housing for the workers, and all the apples are hand-picked. The harvest will last about 2 months, with most of the apples going to Burnette Foods, Eden Foods, and Northern Natural. The fresh apples will be sold to Oryana, The Children's House, Harvest Health, and through farmer's markets.
The Browns also sell vegetables and baked goods at area farmers markets to help make ends meet. Lauri bakes dozens of pies, muffins, coffee cakes, and other baked goods every week in her commercial kitchen. "The work is non-stop," says Lauri. "If we didn't do the markets, it would be tough." But walking with her and Bob through the orchard and listening to them talk about their life's work, you get a sense of how meaningful the work is and how much pride they take in everything they do. Bob's father, Merle, converted the orchards to organic back in 1996, motivated by the chemical intensive nature of his operation and wanting to approach farming in a healthier way. Bob and Lauri have kept this commitment alive and well.
Oryana is incredibly grateful for farmers like Bob and Lauri, for providing our owners and customers with a product that is superior in taste and nutrition; we want to support the Browns and all our local, organic farmers for their dedication and commitment to organic ideals, a vision that Oryana takes to heart in its Mission and Ends.