Happy Holidays! Try one of these side dish recipes to jazz up your holiday table.
French Cut Green Beans with Caramelized Onions and Hazelnuts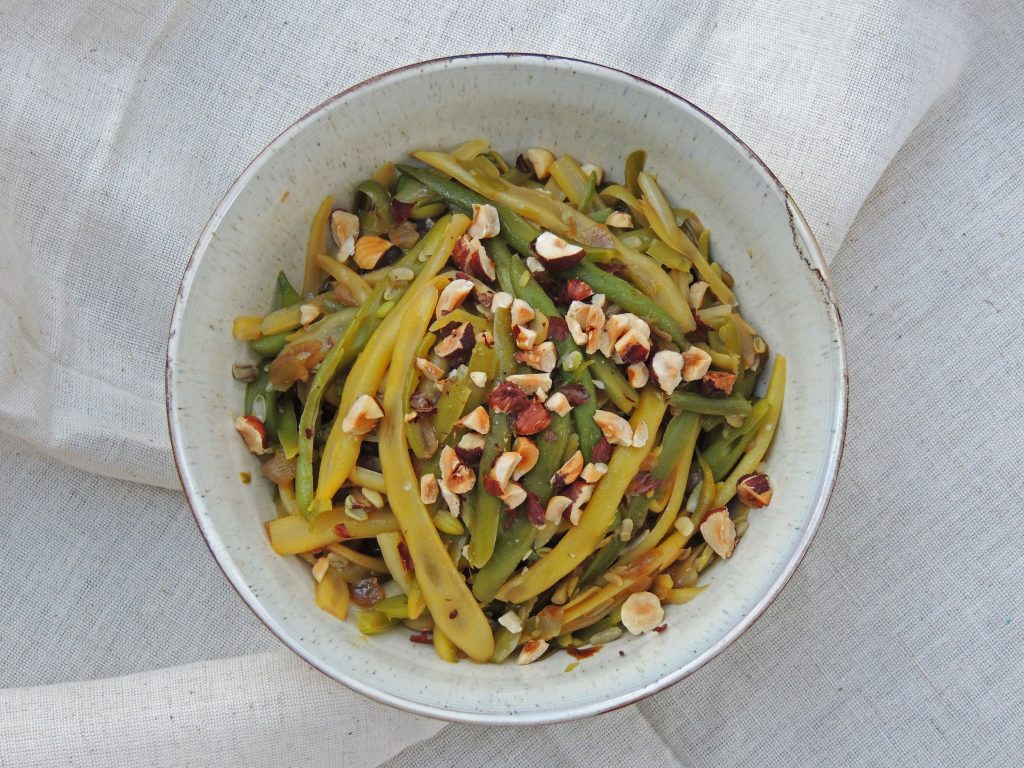 1 lb French cut* green or wax beans or combination
1 large shallot, chopped fine
1 tablespoon clarified butter or olive oil
1 cup chicken or vegetable broth
1/2 teaspoon cider vinegar
Sea salt, to taste
1/3 cup chopped, toasted hazelnuts
Heat olive oil over medium low heat and add the shallots. Cook slowly, stirring frequently, until nicely browned, about 8-10 minutes.
Add the broth, beans, and cider vinegar and season with salt. Give the beans a stir, cover, and simmer until beans are tender, about 6-8 minutes. Serve sprinkled with the chopped hazelnuts.
*Use a French bean slicer or trim each bean, cut in half length wise, then cut halves in half lengthwise.
Roasted Brussels Sprouts with Grapes
4 cups Brussels sprouts, trimmed and halved
2 cups seedless red grapes
1 tablespoon fresh, chopped thyme or 1 teaspoon dried thyme
½ cup pecans, coarsely chopped
1 tablespoon balsamic vinegar
2 tablespoons olive oil
Sea salt and black pepper, to taste
Heat oven to 425°F.
Place the Brussels sprouts and grapes on a rimmed baking sheet. Drizzle with olive oil, balsamic vinegar, thyme, and season with salt and pepper. Toss to coat with the oil.
Roast for 25 to 30 min.
Sprinkle with pecans and roast another 5 minutes or until Brussels sprouts are tender. Serve immediately.
Crockpot Red Cabbage
1 small head red cabbage, thinly sliced
1 apple, cored, chopped fine
1 small red onion, chopped fine
1 cup hot water
¼ cup red wine vinegar
1-2 tablespoons cane sugar
½ teaspoon sea salt or to taste
Dissolve sugar and salt in hot water. Combine all ingredients in a crockpot and cook at low heat for 8 – 10 hours or overnight.
Green Bean Casserole
6 tablespoons butter
1 medium onion, diced small
1 pound button mushrooms, sliced
2 teaspoons sea salt
black pepper to taste
1 1/2 pounds green beans, trimmed, cut into bite-size pieces
¼ cup all-purpose flour
2 cups milk
1 pinch grated nutmeg
1/2 cup grated Parmesan cheese
1/4 cup breadcrumbs
1 can Lars' Own Crispy Onions*
In a large skillet over medium heat, melt 2 tablespoons butter. Add onion, and saute about 5 minutes. Add mushrooms, and cook until most of the liquid has evaporated, about 8 minutes. Season with 1 teaspoon salt and black pepper. Set aside to cool.
Cook beans in boiling water until tender about 8 minutes. Pour into a colander and rinse with cold water. Set aside.
Melt the remaining 4 tablespoons butter in a medium saucepan over medium-low heat. Add 1/4 cup flour, and whisk constantly until mixture turns golden, about 2 minutes. Pour in milk, and continue whisking until mixture thickens, about 3 minutes. Stir in nutmeg, and the remaining teaspoon salt and additional pepper. Remove from heat and let cool to room temperature, stirring occasionally. Mix sauce and mushrooms with the beans in a bowl.
Pour beans into a greased 9 x 13 inch baking pan. Combine Parmesan and breadcrumbs and sprinkle over casserole.
Cover beans with foil and bake at 425°F until heated through, about 30 minutes. Uncover, set oven to broil, and cook until top is golden brown, about 1 minute. Sprinkle fried onions over top and serve immediately.*
*When reheating later, save the fried onions for scattering on top just before serving.
*To make your own fried onions:
4 shallots, cut crosswise into 1/4-inch rings
1/4 cup canola oil
2 tablespoons all-purpose flour
Heat canola oil in a medium skillet over medium-high heat. Toss shallot rings with flour. Fry the shallots in batches, turning frequently, until golden brown. Transfer to paper towels to drain.
Za'atar Roasted Carrots with Tahini Sauce
1 bag baby carrots or 1 bunch small carrots, greens trimmed to retain 2-3 inches
2 teaspoons za'atar
pinch cayenne pepper
1/2 teaspoon sea salt
1 tablespoon olive oil
Tahini Sauce
1/2 cup tahini
1/4 cup water
1/4 cup lemon juice
1/4 teaspoon garlic powder
1/2 teaspoon sea salt
parsley for garnish
Heat oven to 425°F. Toss the carrots with the oil in a bowl. Sprinkle on the seasonings and toss until evenly coated. Spread carrots on a rimmed baking sheet and roast for 30 minutes until tender. Whisk together the sauce ingredients. Serve carrots drizzled with tahini sauce and sprinkled with parsley.
Paleo Sweet Potato Casserole
Reprinted with permission from welcometothetable.coop
3 large sweet potatoes (3 pounds)
1 1/2 cups fresh or frozen cranberries
1 15-oz can coconut milk, full fat
1 tablespoon maple syrup
1 teaspoon cinnamon
1/4 teaspoon allspice
1/4 teaspoon nutmeg
1/2 teaspoon salt
1/2 cup whole almonds, coarsely chopped
2 tablespoons shredded coconut
1 teaspoon coconut oil
Heat oven to 400°F. Place the whole sweet potatoes on a sheet pan and bake until tender, about 30 minutes, then let cool. Strip off the skins and cut potatoes into thick slices. Place them in a 9×13 pan and sprinkle with cranberries.
In a medium bowl, stir the coconut milk, maple syrup, cinnamon, allspice, nutmeg and salt, and pour over the sweet potatoes.
In a medium bowl, stir the almonds, coconut and coconut oil, then sprinkle over the sweet potatoes. Bake for 25 minutes at 400°F, until bubbling and golden brown. Serve warm.
Parsnip Potato Mash with Thyme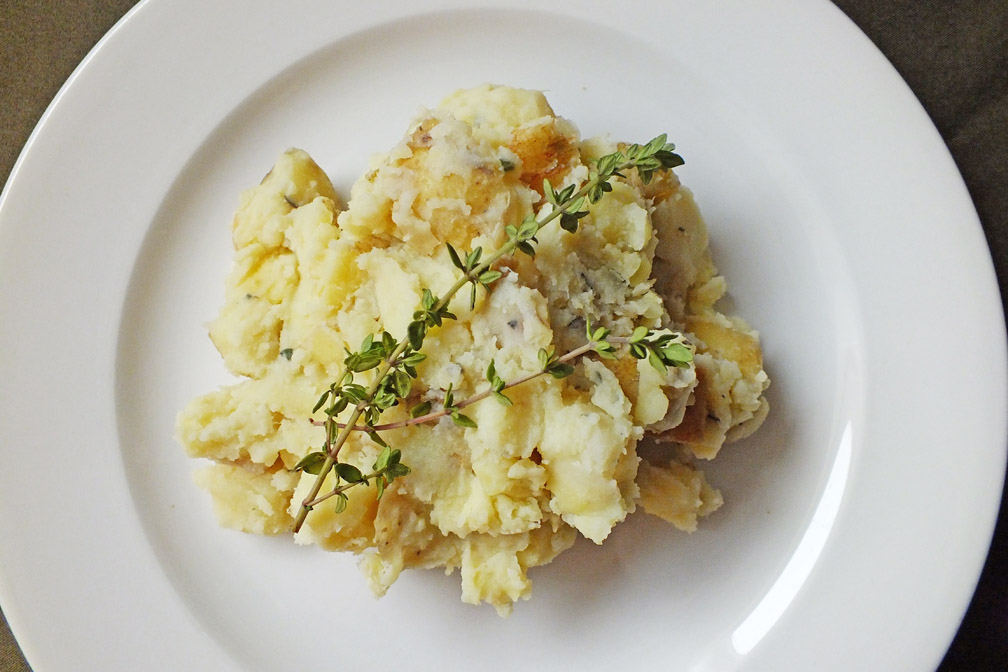 4 tablespoons coconut oil, olive oil, or butter
1/2 pound parsnips, peeled, cut into 1/2-inch pieces
1 1/2 pounds Yukon Gold potatoes, quartered
1 1/2 tablespoons fresh thyme leaves
Sea salt and freshly ground pepper
Heat 1 tablespoon oil in a medium saucepan over medium heat. Cook parsnips with a pinch of salt for 5 minutes, stirring occasionally. Add potatoes, ½ teaspoon salt and water to cover by 1 inch. Bring to a boil, reduce heat, and simmer until veggies are tender, about 15 minutes. Drain.
Return empty saucepan to high heat and add 3 tablespoons oil and thyme. Cook, stirring until thyme starts to sizzle, about 1 minute.
Add potatoes and parsnips and smash until combined but still chunky. Adjust seasonings to taste. Top with sprigs of fresh thyme and a drizzle of oil or fat of your choice.
Broccoli Kale Gratin
1 bunch broccoli, chopped (peel the stems and chop those up too)
1 bunch kale, leaves stripped, chopped
2 cups milk, heated
¼ cup butter
¼ cup flour
1 teaspoon onion powder
½ cup grated Parmesan cheese
sea salt and white pepper to taste
1 cup breadcrumbs
2 tablespoons butter, melted
Heat oven to 400°F. Bring a large pot of lightly salted water to a boil and add the kale and broccoli. Cook for about 5 minutes until tender-crisp. Drain, rinse under cold water, and set aside. While kale and broccoli are cooking, stir together the bread crumbs and melted butter.
Melt the 1/4 cup butter in a heavy-bottomed saucepan. Stir in the flour and cook, stirring constantly about 2 minutes. Whisk in the hot milk and onion powder, continuing to stir as the sauce thickens. Bring to a boil. Add salt and pepper to taste, lower the heat, and cook, stirring for 2 minutes more. Stir in the parmesan cheese. Remove from heat.
Layer the broccoli and kale in a greased casserole dish. Pour the sauce evenly over the veggies and sprinkle with the buttered bread crumbs. Bake for 30 minutes, until golden-brown and bubbly. If desired, place under a broiler set to high for 1-2 minutes to create more of a crusted top.
Orange Cranberry Sauce
12 oz fresh cranberries (about 3 cups)
3/4 cup cane sugar
pinch sea salt
Zest and juice of 1 orange
Squeeze the orange juice into a liquid measuring cup. Add water to equal 1 cup. In a medium saucepan, combine the cranberries, sugar, salt, juice/water and zest. Stir to dissolve the sugar and bring to a boil. Reduce to a simmer and cook until cranberries are soft and starting to burst open, about 10 minutes. Let cool and then refrigerate. It will thicken as it cools. Sauce will keep for 2 months refrigerated.