For people who love to cook, Thanksgiving is a great time of year to immerse oneself in the kitchen and experiment with new recipes. Whether your family is open to trying new dishes or clamors for the same favorites, here are a few easy, delicious recipes for inspiration.
Roasted Pumpkin Soup
1 4-pound pie pumpkin, cut in half and seeds removed
2 tablespoons olive oil
Sea salt and black pepper to taste
2 shallots, chopped
1 stalk celery, chopped
1 bay leaf
4 cups chicken or vegetable broth
1/2 teaspoon thyme
1/4 cup half and half
Heat the oven to 400°F. Rub the cut halves of the pumpkin with 1 tablespoon of the oil. Place on a baking sheet and roast for about an hour until tender when pierced with a knife. Remove from the oven and let cool. Scoop out the flesh, place it in a bowl, and set aside.
Heat remaining olive oil in a soup pot over medium heat. Saute the shallots, celery, and bay leaf about 8 minutes.
Add the broth, thyme, and pumpkin and season with salt and pepper. Bring to a simmer and cook about 20 minutes.
Remove the bay leaf and purée the soup using an immersion blender. Stir in the half and half. Taste and adjust salt and pepper. Serve with a dollop of crème fraîche and croutons.
Onion Pie
filling
2 large onions, halved and thinly sliced
2 tablespoons butter
1 teaspoon salt
1/4 teaspoon black pepper
1 teaspoon caraway seeds
1 egg
1/4 cup sour cream
crust
2 cups all-purpose flour
1 teaspoon baking powder
½ teaspoon salt
5 tablespoons cold butter, cut into small cubes
½ cup milk + 1-2 tablespoons
In medium skillet, saute the onions in butter over medium heat until they turn translucent and just begin to brown, about 25 minutes, stirring frequently. Pour into a bowl and aside to cool. Beat the egg and sour cream together and stir into the cooled onion mixture along with the salt, pepper and caraway seeds.
Heat oven to 450°F. In a food processor bowl place flour, baking powder, and salt and pulse to combine. Add the butter and process just until it is the texture of soft crumbs. Add the milk and pulse to form a soft dough.
Spray a 10 inch round cake pan with cooking spray and spread the dough out evenly using your fingers. Bring the dough up the sides of the pan. Spread the onion mixture over the dough. Bake for 30 minutes or until lightly browned. Serve warm or at room temperature.
Roasted Butternut Squash Apple Salad
1 1-2 pound butternut squash, peeled, diced
1/4 cup + 2 tablespoons olive oil
1 tablespoon maple syrup
3/4 cup apple cider or apple juice
2 tablespoons apple cider vinegar
1 teaspoon Dijon mustard
4 ounces arugula, washed and spun dry
2 local apples, diced
1 cup pecan halves
1/4 cup raw pumpkin seeds
1/2 cup dried cranberries
sea salt and freshly ground pepper to taste
Preheat oven to 400°F. Put squash on a roasting pan and toss with 2 tablespoons olive oil, maple syrup, salt and pepper. Roast for 15 minutes. Turn and roast 15 minutes more or until tender. Remove from oven and cool.
Bring cider or juice and vinegar to a boil in a small saucepan over medium high heat and cook for 10 minutes, reducing to 1/4 cup. Remove from heat and whisk in the mustard, 1/4 cup olive oil, salt and pepper to taste.
Place arugula and squash in a bowl and spoon enough dressing over to moisten, and then toss well. Plate on a large platter. Scatter the apples, pecans, pumpkin seeds and dried cranberries on top and serve immediately.
Butternut Squash Macaroni and Cheese
Recipe by Ali Lopez
2 cups uncooked macaroni
2 tablespoons butter
1 small yellow onion, diced
1 medium butternut squash (4-5 cups)
4 cups vegetable broth
1 cup milk
1/2 cup shredded cheddar cheese
salt and pepper to taste
Cook the macaroni according to package directions. Drain and set aside.
Heat butter in a skillet over low heat. Add onions and sauté over low heat until golden, about 20 minutes.
Peel, remove seeds and cut squash into small cubes. Bring the broth to a boil and add the squash. Cook for 5-10 minutes or until tender. Drain, reserving 1 cup broth, and transfer squash to the blender. Add the onions, milk, salt, and 1/2 cup broth and puree until smooth and creamy.
Pour the pureed sauce over the cooked noodles and add the shredded cheese. (You can add more broth if you need to.) Stir to melt the cheese. Season with salt and pepper to taste.
Ginger Cranberry Sauce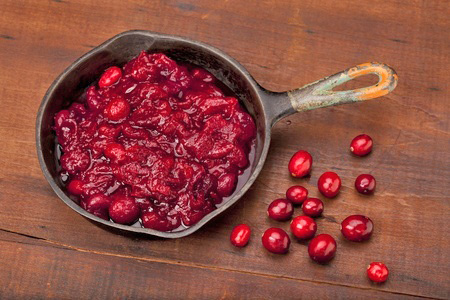 1 bag (12 ounces) fresh cranberries
1 cup cane sugar
1 tablespoon peeled, grated fresh ginger
2-3 tablespoons water
In a large saucepan, bring cranberries, sugar, ginger, and water to a boil. Reduce heat to medium and cook until most of the cranberries have popped, about 15 minutes. Remove from heat and let cool before serving.
Acorn Squash with Wild Rice Stuffing
3 acorn squash, halved lengthwise and seeds removed
3 tablespoons butter, melted, or vegan butter
1 tablespoon maple syrup
1 small onion, finely chopped
4 celery stalks, finely chopped
1 teaspoon dried thyme
1 teaspoon dried sage
2 cups cooked wild rice mix (1 cup uncooked*)
2/3 cup pecans, toasted and finely chopped
1/4 cup dried cranberries, finely chopped
1 teaspoon sea salt,
black pepper to taste
Heat the oven to 450°F. Place squash cut side up on a baking sheet, brush 1 tablespoon of the melted butter over the tops and insides of the squash halves, drizzle with maple syrup, and sprinkle on salt and pepper. Bake until fork tender, about 25 to 30 minutes.
Meanwhile, place 1 tablespoon of the melted butter in a large skillet over medium heat. Add the onion and celery, salt and pepper. Cook, stirring, about 10 minutes. Stir in the herbs and cook 1 more minute.
Remove from heat and stir in the rice, pecans, cranberries, and 1 teaspoon salt and pepper to taste.
Divide the rice filling among the roasted squash halves and drizzle the remaining tablespoon of butter over the top. Bake until the squash is completely tender and browning up and the filling is heated through, about 25 minutes.
*To cook wild rice: combine 1 cup wild rice with 4 cups water and 1/2 teaspoon sea salt. Bring to a boil, lower heat, cover, and cook for 45 minutes. Drain any remaining water.
Green Bean Casserole
6 tablespoons butter
1 medium onion, diced small
1 lb white mushrooms, sliced
2 teaspoons sea salt
black pepper, to taste
1 1/2 pounds green beans, trimmed and cut into bite-size pieces
1/4 cup all-purpose flour
2 cups milk
1 pinch grated nutmeg
1/2 cup grated Parmesan cheese
1/4 cup breadcrumbs
1 can Lars' Own Crispy Onions*
In a large skillet over medium heat, melt 2 tablespoons butter. Add onion, and saute about 5 minutes. Add mushrooms, and cook until most of the liquid has evaporated, about 8 minutes. Season with 1 teaspoon salt and black pepper. Set aside to cool.
Cook beans in boiling water until tender about 5 minutes. Pour into a colander and rinse with cold water. Set aside.
Melt the remaining 4 tablespoons butter in a medium saucepan over medium-low heat. Add 1/4 cup flour, and whisk constantly until mixture begins to turn golden, about 2 minutes. Pour in milk, and continue whisking until mixture has thickened, about 3 minutes. Stir in nutmeg, and the remaining teaspoon salt and additional pepper. Remove from heat, and let cool to room temperature, stirring occasionally. Mix sauce with beans in a bowl.
Pour beans into a greased 9 x 13 inch baking pan. Combine Parmesan and breadcrumbs and sprinkle over casserole. Cover beans with foil and bake at 425 until heated through, about 25 minutes. Uncover, set oven to broil, and cook until top is golden brown, about 1 minute. Sprinkle fried onions over top and serve immediately.
*To make your own fried onions:
4 shallots, cut crosswise into 1/4-inch rings
1/4 cup canola oil
2 tablespoons all-purpose flour
Heat canola oil in a medium skillet over medium-high heat. Toss shallot rings with flour. Fry the shallots in batches, turning frequently, until golden brown. Transfer to paper towels to drain.
Quinoa Stuffing
1 cup quinoa
2 cups vegetable broth
1 bay leaf
1 yellow onion, chopped fine
1 stalk celery, chopped fine
2 cloves garlic, minced
1/2 cup sliced mushrooms
2 tablespoons butter
1 teaspoon thyme
1 teaspoon sage
1/2 teaspoon salt
1/4 teaspoon black pepper
1/2 cup chopped walnuts or pecans
3/4 cup vegetable broth
In a medium saucepan, bring quinoa, bay leaf, and vegetable broth to a boil, reduce heat, cover, and simmer for 15 minutes until liquid is absorbed and quinoa is tender. Remove bay leaf.
Pre-heat oven to 350 degrees. In a large skillet, saute onions, celery and garlic in butter until softened, about 5 minutes. Add mushrooms and saute, until mushrooms are soft. Add thyme, sage, salt and pepper, nuts, and ½ cup vegetable broth. Stir in quinoa. Transfer to a baking dish, cover with foil, and bake for 45 minutes.
Cranberry Apple Crisp
For the topping
1-1/4 cups all-purpose flour
1/2 cup firmly packed brown sugar
2 tablespoons cane sugar
1/4 teaspoon sea salt
1 stick butter, chilled, cut into small pieces
3 tablespoons ice cold water
1 cup pecans, coarsely chopped
For the filling
6 large apples, such as Braeburn, Honeycrisp, or gala, peeled, cored, chopped
8 oz fresh cranberries, coarsely chopped
1 tablespoon fresh lemon juice
1 teaspoon ground cinnamon
½ teaspoon ground cardamom
Pinch sea salt
1 cup cane sugar
1 tablespoon arrowroot powder
1 tablespoon butter, melted
To make crisp topping:
Combine the flour, brown sugar, sugar, and salt in the bowl of a food processor. Pulse until the butter is fully incorporated.
Drizzle in the water and pulse until it just starts to clump together. Keep chilled until ready to use.
Assemble and bake:
Heat oven to 375°F. Spray a 9-inch-square baking pan with cooking spray.
Place apples, cranberries, and lemon juice in a large bowl and toss. Whisk together the sugar, arrowroot, cinnamon, cardamom and salt in a separate bowl. Add this mixture to the apples and toss to combine. Drizzle the butter over the apples and toss again.
Pour the apple mixture into the prepared pan and spread it evenly. Alternating with the chopped pecans, sprinkle the topping evenly on top of the apples.
Bake for 60 to 70 minutes until browned on top and bubbling. If the top starts to get too brown after about 45 minutes, cover loosely with foil. Let cool for 10 minutes before serving. Serve with vanilla ice cream or whipped cream.
Vegan Pumpkin Pie
Adapted from Peace in Every Bite
This pie should be baked a day ahead and refrigerated overnight so the filling can set properly.
1 9-inch unbaked pie shell
2 ¼ cups pumpkin puree
1 cup rice, almond, or sunflower milk
¾ cup cane sugar
¼ cup corn starch
1 teaspoon molasses
½ teaspoon vanilla
1 teaspoon cinnamon
½ teaspoon nutmeg
½ teaspoon allspice
¼ teaspoon ginger
½ teaspoon sea salt
Have 1 9-inch unbaked pie shell ready. Heat oven to 425°F. Combine all ingredients in a blender until smooth and creamy. Pour mixture into pie shell and bake for 10 minutes. Reduce heat to 350°F and continue baking for 45 – 50 minutes or until filling is set. Cook on a wire rack and then refrigerate overnight.