Scare up some fun, spooky Halloween treats for your family! Here are some easy, tasty treats to make for your ghosts and goblins.
Spider Deviled Eggs
6 eggs
1 cup blueberries
2 tablespoons mayonnaise
1 teaspoon yellow mustard
Salt and pepper to taste
Pitted black olives
Place eggs and blueberries in a small pot. Cover eggs with water, cover the pot, and bring to boil. Boil eggs for 5 minutes, then turn off heat. Let eggs sit in the blueberry water for 10 more minutes.
Remove eggs and place under cold running water for a minute or so to cool them off. Then press a spoon into the shells of the eggs so the entire shell is cracked.
Place cracked eggs back into the blueberry water and cool to room temperature. Place the pot in the refrigerator overnight.
Peel the eggs and cut in half lengthwise. Scoop out the yolks and place in a small bowl. Arrange the whites on a serving plate. Mash the yolks with a fork, and mix in the mayo, mustard, salt and pepper, until smooth. Spoon yolks back into whites.
Cut the olives in half and cut some of the halves into thin pieces for the spider legs. Place a half olive in the middle of each egg and arrange 8 spider legs around each olive.
Spooky Pizzas
English muffins, split
Pizza sauce
Mozzarella cheese slices
Preheat oven to 350°F. Cut mozzarella slices into ghost or bat shapes using a sharp paring knife.
Spread a layer of pizza sauce over English muffin and top with a cut out cheese slice. Bake until cheese is melted, about 10 minutes.
Wormy Hotdogs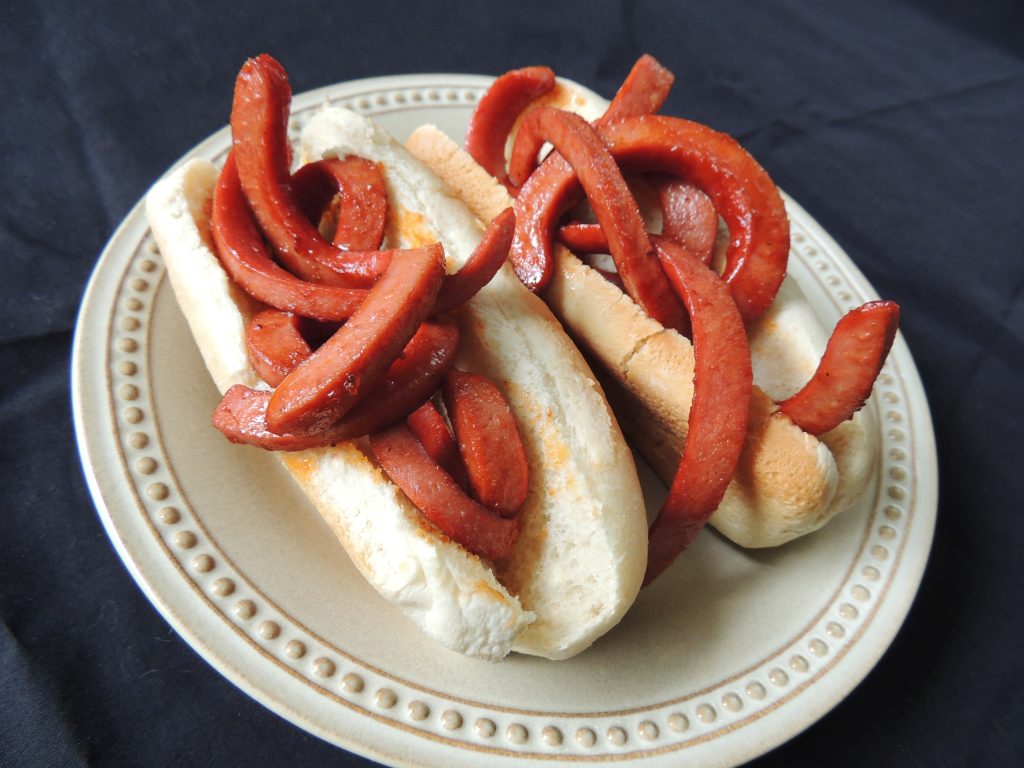 4 hotdogs + buns
1 tablespoon ketchup or barbeque sauce
2 teaspoons vegetable oil
Cut each hotdog in half lengthwise. Cut the halves into thirds lengthwise.
Heat oil in a non-stick or cast iron skillet over medium heat and fry the hotdog strips until the pieces curl. Stir the ketchup or barbeque sauce into the hotdog strips.
Toast the buns lightly in the oven for a few minutes, if desired, and fill will hotdog worms.
Spider Web Guacamole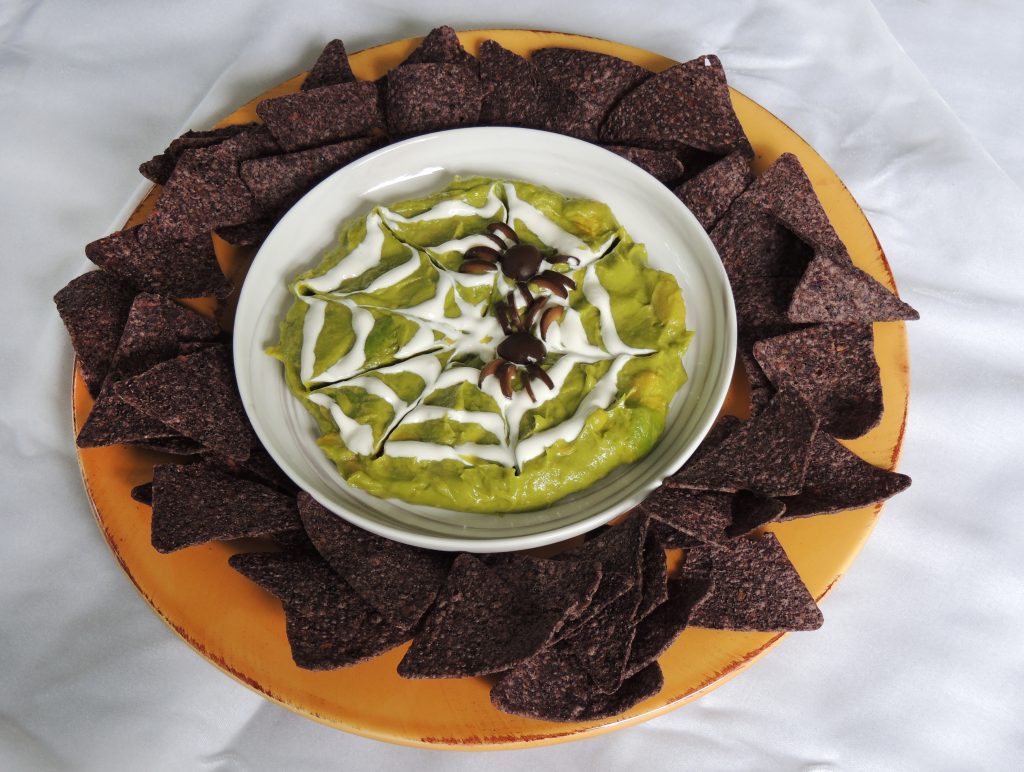 Put a large round shallow bowl on a larger round platter. Fill the bowl with the guacamole and smooth over the top. Fill a squeeze bottle, pastry bag, or plastic bag (with a corner tip cut off) with sour cream (thin it out with some lime juice if needed). Pipe 4 concentric circles of sour cream onto the guacamole. Using chopstick or skewer, pull lines from the center circle out, creating a spider web pattern. Surround the guacamole bowl with tortilla chips.
Finger Cookies
2 cups all-purpose flour
1/2 teaspoon baking powder
1/4 teaspoon sea salt
1/2 cup (1 stick) butter, softened
1 cup cane sugar
1 egg
1 teaspoon vanilla extract
½ cup sliced almonds
Optional: 1/2 cup raspberry jam or other red jam
Preheat the oven to 325°F. Line 2 rimmed baking sheets with parchment paper.
In a medium bowl, whisk together the flour, baking powder and salt.
Beat the butter and sugar together until fluffy. Beat in the egg and vanilla until smooth. Gradually beat in the flour mixture until a dough forms.
Using about 1 heaping teaspoon of dough at a time, roll the dough into 5-inch-long fingers about 1/2-inch thick. Press a sliced almond into the end of each finger to make fingernails. Make several horizontal cuts in the center of each finger to make knuckles. Press the dough on either side of the cuts to shape the knuckles.
Arrange the fingers on the prepared pans and bake until light golden, about 18 minutes. Transfer the fingers to a wire rack and cool completely.
Dip the severed ends in the jam, if desired, and arrange fingers on a plate. If the jam is too thick, heat it lightly in a small saucepan. Makes about 36 fingers.