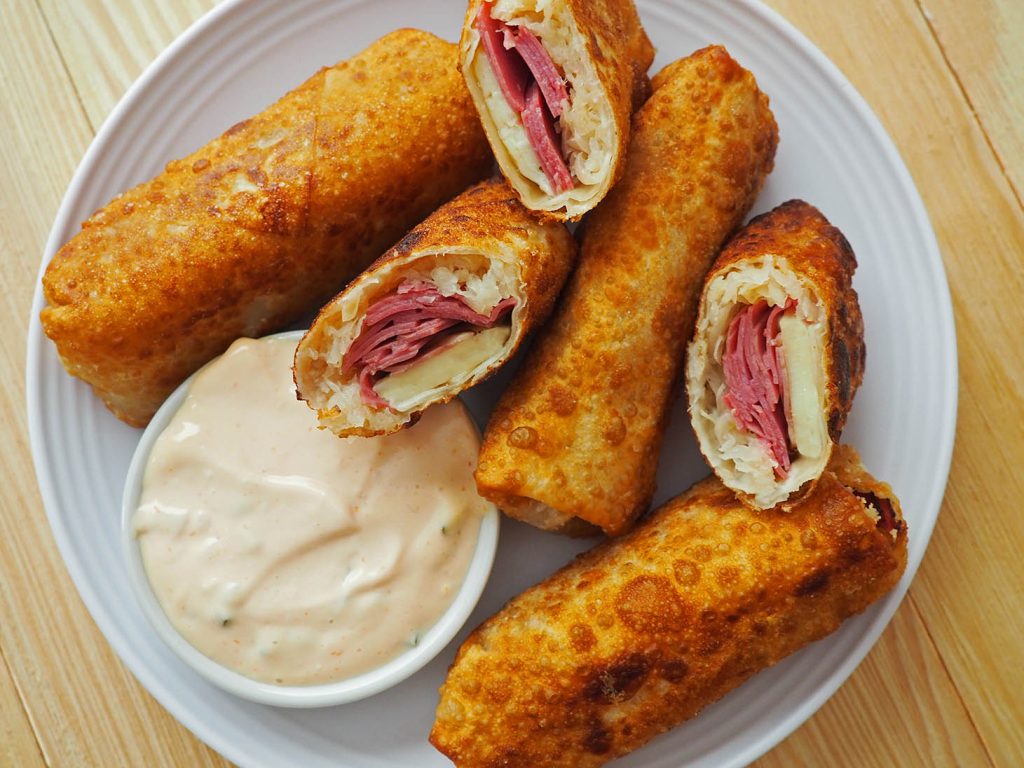 12 egg roll wrappers
1/2 lb thinly sliced corned beef or pastrami
5-6 thin slices Swiss cheese or 1 packed cup grated Swiss cheese
1 1/2 cups sauerkraut, liquid squeezed out
Water for sealing the wrappers
canola oil for frying
Thousand Island dressing 
Prepare the filling: Slice the corned beef or pastrami and Swiss cheese into thin strips. Squeeze out most of the liquid from the sauerkraut using your hands. Let ingredients sit for a few minutes to come up to room temperature.
To assemble rolls: place egg roll wrappers on a clean work surface with a corner facing toward you. Spread about 2 tablespoons sauerkraut in a line, from corner to corner, leaving about an inch on each side. Lay the corned beef slices and cheese slices over the sauerkraut. Fold the bottom corner over the filling mixture. Fold the side corners toward center of wrapper; tuck and fold in the sides. Dip your fingers in water and run it along the edges of the wrapper. Carefully roll up the egg roll and let it rest seam side down. The roll should be nice and tight.
To cook rolls: Heat about ¼ inch of oil in a medium-size heavy skillet over medium heat until shimmering. Fry the egg rolls in batches until golden brown, turning to cook all sides until golden brown.
Serve with Thousand Island dressing on the side for dipping.
These rolls can be refrigerated and then reheated in the oven to serve later. Heat oven to 350°F and heat rolls for 20 minutes.