Homemade Gifts for the Season
Homemade gifts are fun to make and people really appreciate the time and effort you put into it. Nothing says "I care about you" more than a gift that took thoughtfulness, time, and attention to make. Here are a few ideas to get you rolling.
Made-from-scratch cookie kits
Layer all the dry ingredients in the mason jar, screw on the lid and print or hand-write the recipe on the notecard and then tie it to the jar with the ribbon. Very pretty with the separate layers of ingredients in the jar.
More info about cookie mixes in a jar >
Easy Spiced Nuts
2 cups pecan halves or any combination of nuts
2 tablespoons maple syrup
4 teaspoons vegetable oil
2 tablespoons cane sugar
1 tablespoon ground chili pepper, such as ancho or pasilla
Line a 13 x 9 inch baking pan with foil; set aside. In a medium bowl combine nuts, maple syrup and oil. Stir in sugar and chili powder. Spread in prepared pan. Bake at 250 degrees for 45 minutes, stirring a couple times. Spread on a large piece of foil to cool. Place in a pretty glass jar or decorative airtight tin. Makes 2-1/2 cups
Soup!
Who wouldn't love a quart jar of delicious, made-with-love soup!? Buy some pretty dish towels to wrap the jars in. Here are a few of our favorite soup recipes:
Chicken Soup with Rice and Kale
Butternut Squash Soup with Goat Cheese Croutons
Winter Vegetable Soup with Dumplings
White Bean Italian Sausage Fennel Soup
Beef Barley Soup
Flavored Vinegar
Making flavored or herbed vinegar is easy. Find a decorative bottle with a lid or purchase a new cork. Sterilize the bottle by running it through a dishwasher cycle or boiling it in a large stock pot.
Choose fresh herbs that are free from dirt and brown spots or mold. You can use apple cider, red wine, white, or rice wine vinegar.
For flavorings try bay leaves, peppercorns, garlic, fresh ginger, chili peppers, rosemary, dill, tarragon, sage, thyme, lemon or orange peel, or peppercorns. Place fresh, clean herbs in the sterilized bottle and pour heated (not boiling) vinegar to fill. Cork or lid the bottle. Tie a pretty ribbon around it to make it festive.
Fresh Baked Cookies
Cookies are always a welcome gift. But instead of the traditional (boring) decorated sugar cookies, try something a little different. Here are a few unique cookie recipes. Note: you can get decorative food boxes at Michael's.
Almond Crescents
Coconut Orange Macaroons
Danish Cardamom Cookies
Nutty Thumbprint Cookies
Vegan Chocolate Truffles
Note: You can get food gift boxes and tins at Michael's.
8 oz 70% cacao dark chocolate, chopped
1/4 cup coconut oil
3 tablespoons water
1 teaspoon vanilla extract
Pinch sea salt
1/4 cup unsweetened cocoa powder, for rolling
Toppings: finely chopped pistachios, hazelnuts, toasted shredded coconut, candy sprinkles
Melt chocolate with oil and the water. Stir in vanilla and sea salt. Transfer to an 8-inch square baking dish and refrigerate until mixture is set but still pliable, about 2 hours.
Scoop out 1-inch balls and transfer to a parchment-lined baking sheet. Coat hands in cocoa and roll the balls to make them smooth. Refrigerate for 10 minutes. (Truffles can be refrigerated in an airtight container up to 2 weeks; let stand at room temperature 30 minutes before coating.)
To serve, roll in cocoa or pat with finely chopped nuts, coconut, or sprinkles.
Slow Cooker Dulce de Leche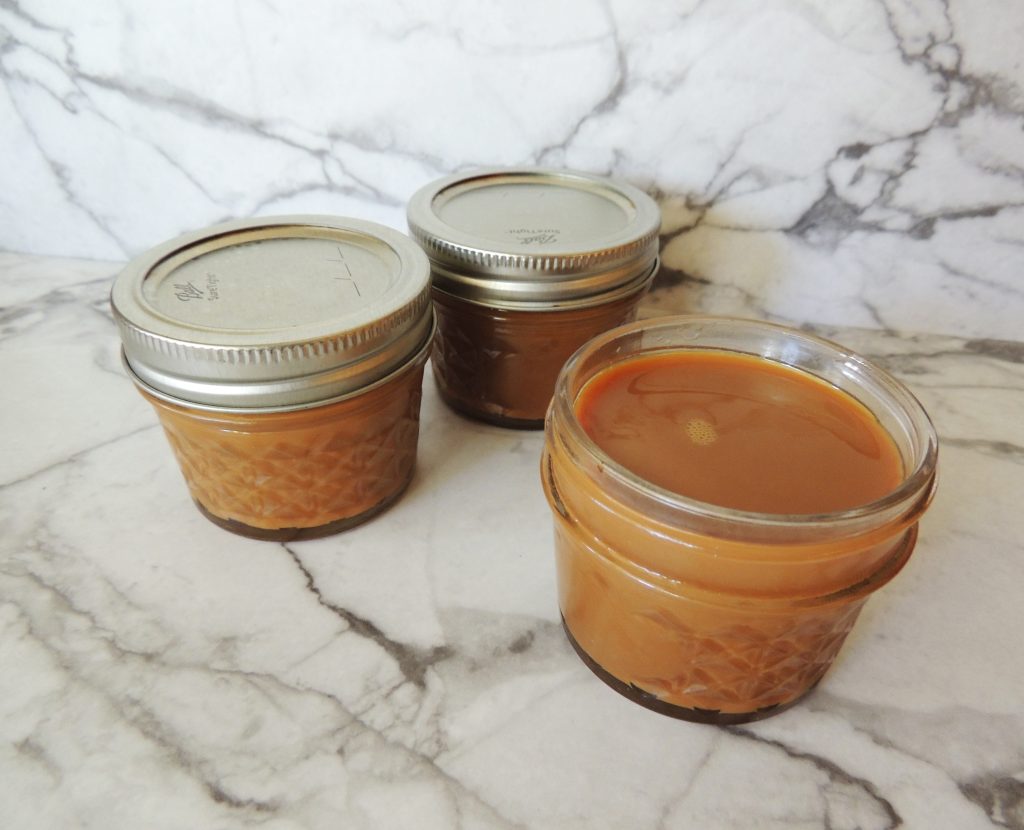 2 14-oz cans sweetened condensed milk
Divide the condensed milk among 6 4-oz canning jars. Secure lids. Place in a slow cooker and add enough hot water to cover by 1 inch. Cook on low for 12 hours, or until thick and richly colored. Remove jars with tongs and cool to room temperature. Keeps refrigerated up to a month.
Lavender Lemon Refreshing Room Spray
1.5 oz distilled water
1.5 oz witch hazel
15 drops lavender essential oil
15 drops lemon essential oil
4 oz spray bottle
Pour the witch hazel into a small spray bottle. Add the essential oils and shake well. Add the water and shake again.
Other ideas:
Give the gift of time or skill. Offer to clean an older relative's house, or give a friend a massage, or wash their car or their dog!
Assemble a themed gift basket i.e. a coffee mug with gourmet coffee, sugar swizzle sticks, instant espresso for coffee lovers, or camping gadgets and freeze dried food for friends who love to camp. You can get cheap, attractive baskets from Goodwill and stores like Michael's have good selection of baskets and decorative boxes and bags. Oryana will make a gift basket for you as well. Just give us 24 hours notice.