Going to a Friendsgiving celebration? You'll need a portable dish that will hold up and be delicious reheated or at room temperature. Here are a few dishes that your friends will enjoy.
Stunning Beet Hummus
1 beet roasted and chopped* or 3/4 cup cultured beets
1 cup cooked chickpeas
3 cloves garlic, chopped
1/4 cup tahini
1/2 teaspoon cumin
Juice from 1 lemon
olive oil, enough to thin to desired consistency
1/4 teaspoon sea salt or to taste
optional: pinch of cayenne
In a food processor, blend beets, garlic, and chickpeas until smooth. Add tahini, lemon juice, and cumin, and process again. Scrape down the sides and bottom of the bowl, then replace the lid. With blade running, slowly add the olive oil to reach desired consistency for dipping. Great served as a dip with raw vegetables or tortilla chips or as a spread for wraps.
*To roast beets: Preheat the oven to 450°F. Wash and trim the beets, wrap in foil and roast for 50 – 60 minutes, or until soft when poked with a fork. Remove from the oven and allow to cool, then peel and cut into small chunks.
Kale Spinach Dip
1 bunch kale, washed and tough stems removed (about 7 ounces)
1 bunch spinach, washed and tough stems removed (about 5 ounces)
2 medium garlic cloves, peeled
3 tablespoons toasted pine nuts
4 teaspoons balsamic vinegar
1/2 cup olive oil
Bring a large pot of salted water to a boil. Prepare an ice water bath by filling a bowl halfway with ice and water; set aside.
Add kale to the boiling water and cook until wilted, about 2 minutes. Add spinach and cook for about 30 seconds. Remove kale and spinach from the boiling water and plunge into the ice bath. Once the greens are cool, remove them from the ice bath, drain well in a colander, and place in the bowl of a food processor.
Add garlic, pine nuts, and vinegar and, while puréeing, slowly pour in the olive oil. Continue puréeing, stopping to scrape down the sides of the bowl with a rubber spatula as necessary, until all of the oil is incorporated and the mixture is smooth, about 4 minutes. Season with salt and serve with pita chips or toasted French bread rounds.
Roasted Butternut Squash Apple Salad
1 1-2 pound butternut squash, peeled, diced
1/4 cup + 2 tablespoons olive oil
1 tablespoon maple syrup
3/4 cup apple cider or apple juice
2 tablespoons apple cider vinegar
1 teaspoon Dijon mustard
4 ounces arugula, washed and spun dry
2 local apples, diced
1 cup pecan halves
1/4 cup raw pumpkin seeds
1/2 cup dried cranberries
sea salt and freshly ground pepper to taste
Preheat oven to 400°F. Put squash on a roasting pan and toss with 2 tablespoons olive oil, maple syrup, salt and pepper. Roast for 15 minutes. Turn and roast 15 minutes more or until tender. Remove from oven and cool.
Bring cider or juice and vinegar to a boil in a small saucepan over medium high heat and cook for 10 minutes, reducing to 1/4 cup. Remove from heat and whisk in the mustard, 1/4 cup olive oil, salt and pepper to taste.
Place arugula and squash in a bowl and spoon enough dressing over to moisten, and then toss well. Plate on a large platter. Scatter the apples, pecans, pumpkin seeds and dried cranberries on top and serve immediately.
Simple Carrot Salad
4 large carrots, peeled
2 tablespoons fresh lime juice
2 tablespoons extra virgin olive oil
1/4 teaspoon sea salt
Grate carrots into a bowl. Stir in the lime juice, oil, and salt. Let the salad sit for an hour before serving to allow the flavors to meld.
Crockpot Red Cabbage
1 small head red cabbage, thinly sliced
1 apple, cored, chopped fine
1 small red onion, chopped fine
1 cup hot water
¼ cup red wine vinegar
1-2 tablespoons cane sugar
½ teaspoon sea salt or to taste
Dissolve sugar and salt in hot water. Combine all ingredients in a crockpot and cook at low heat for 8 – 10 hours or overnight.
Mujadara – Rice, Lentil, and Caramelized Onion Pilaf
1 cup white basmati rice
1 cup brown lentils
4 1/2 cups vegetable or chicken broth
2 tablespoons olive oil
2 large yellow or red onions, thinly sliced
1 teaspoon ground cumin
½ teaspoon apple cider vinegar
Sea salt and black pepper
Optional: Plain yogurt or sour cream, fresh chopped parsley
In a large skillet, heat 2 tablespoons of olive oil over medium heat. Add the sliced onions and cook until deeply browned, about 20-30 minutes, stirring frequently.
In a large saucepan, bring the broth to a boil. Add the lentils and return to a boil. Reduce to a simmer and cook, uncovered, for 20 minutes.) Add the rice, half the cooked onions, cumin, and the vinegar. Season with salt and pepper. Bring to a boil, reduce heat to low, cover and cook for 22 – 25 minutes or until the rice is tender. Remove from heat and let rest, covered, for 10 minutes. Serve with remaining caramelized onion on top along with a dollop of yogurt and sprinkle of parsley.
Roasted Brussels Sprouts and Cauliflower with Bacon and Rosemary
2 slices thick bacon, chopped
1 medium cauliflower, quartered, cored and cut into 1-inch florets
2 cups Brussels sprouts, halved lengthwise
2 tablespoons bacon fat
1 ½ teaspoons chopped fresh rosemary
sea salt and black pepper to taste
Brown bacon in a cast iron pan until crispy. Remove bacon with a slotted spoon and set aside. Reserve bacon fat. You should have about 2 tablespoons.
In large bowl, combine cauliflower and Brussels sprouts. Drizzle bacon fat on top. Add rosemary, salt and pepper and toss well.
Preheat oven to 450°F. Spread vegetables in single layer on large baking sheet with sides. Roast until vegetables are tender and beginning to brown at edges, about 20 – 22 minutes, stirring halfway through. Serve immediately with reserved bacon.
Onion Pie
Filling
2 large onions, halved and thinly sliced
2 tablespoons butter
1 teaspoon salt
1/4 teaspoon black pepper
1 teaspoon caraway seeds
1 egg
1/4 cup sour cream
Crust
2 cups all-purpose flour
1 teaspoon baking powder
½ teaspoon salt
5 tablespoons cold butter, cut into small cubes
½ cup milk + 1-2 tablespoons
In medium skillet, saute the onions in butter over medium heat until they turn translucent and just begin to brown, about 25 minutes, stirring frequently. Pour into a bowl and aside to cool. Beat the egg and sour cream together and stir into the cooled onion mixture along with the salt, pepper and caraway seeds.
Heat oven to 450°F. In a food processor bowl place flour, baking powder, and salt and pulse to combine. Add the butter and process just until it is the texture of soft crumbs. Add the milk and pulse to form a soft dough.
Spray a 10 inch round cake pan with cooking spray and spread the dough out evenly using your fingers. Bring the dough up the sides of the pan. Spread the onion mixture over the dough. Bake for 30 minutes or until lightly browned. Serve warm or at room temperature.
Spelt Cornbread
1 3/4 cups white spelt or unbleached flour
1 cup cornmeal
3 tablespoons cane sugar
2 teaspoons baking powder
1/4 teaspoon baking soda
1/2 teaspoon sea salt
1 1/4 cups milk
1/2 cup butter, melted
1 large egg
Optional: ½ cup grated cheddar cheese
Preheat the oven to 375°F. Lightly grease a 9″ square or 12 muffin cups.
Whisk together the flour, cornmeal, sugar, baking powder, baking soda, and salt in a bowl.
Stir in cheese if using.
Whisk together the milk, melted butter, and egg in a different bowl.
Pour the liquid mixture all at once into the flour mixture, stirring quickly just until combined. Do not overmix.
Spread the batter into the prepared pan, or scoop into the muffin tin.
Bake for 20-25 minutes, until the edges begin to pull away from the pan and a toothpick inserted in the center comes out clean.
Remove from the oven and let cool for 5 minutes before cutting.
Alice Waters' Corn Cakes
1 1/2 cups masa harina
1 1/2 teaspoons baking powder
1/2 teaspoon salt
4 tablespoons butter
1 cup milk
1 tablespoon honey
2 cups frozen corn, thawed
2 large eggs, separated
1 jalapeño, chopped (optional)
ghee, clarified butter, or lard for frying
Whisk together the masa harina, baking powder, and salt in a large bowl.
In a small saucepan, heat the butter with the milk and honey, until the butter is melted. Whisk the mixture until blended. Set aside until cooled a bit, about 5 minutes, then make a well in the center of the dry ingredients and stir in the milk mixture, the 2 egg yolks, the corn and jalapeño if using.
In a clean, dry bowl, beat the egg whites until stiff and hold their shape, then fold them into the corn mixture.
Heat some ghee, clarified butter, or lard in a heavy skillet over medium heat. Form the dough into patties, about 1 heaping tablespoon each, or however large you want. You may have to wet your hands to do this.
Cook the cakes until browned on the bottom. Flip the corn cakes with a spatula, press down gently with the spatula, and cook on the other side for about a minute, until lightly browned. Repeat with remaining dough. Makes about 16 corn cakes.
Gluten Free Gingerbread Squares with Lemon Icing
1 package Bob's Redmill almond meal (1 lb)
3/4 teaspoon baking soda
1 1/2 sticks butter, softened
½ cup brown sugar, packed
2 teaspoons ground ginger
2 teaspoons ground cinnamon
1/2 teaspoon ground cloves
1/2 teaspoon ground nutmeg
1/2 teaspoon sea salt
1 egg
1/2 cup molasses
Lemon icing:
1 cup confectioners sugar
1 tablespoon lemon juice
Heat oven to 350°F. Grease a 9 x 13 inch pan with butter. In a large bowl whisk together the almond meal, baking soda, and spices. Set aside.
Cream the butter and sugar together until fluffy. Mix in eggs and molasses until smooth. Gradually beat in the almond mixture until combined.
Press dough evenly into prepared pan. Bake for 30 minutes. Let cool.
While bread is cooling, mix the confectioners sugar and lemon juice together in a small bowl until smooth. Drizzle icing over cool bread.
Caramel Apple Galette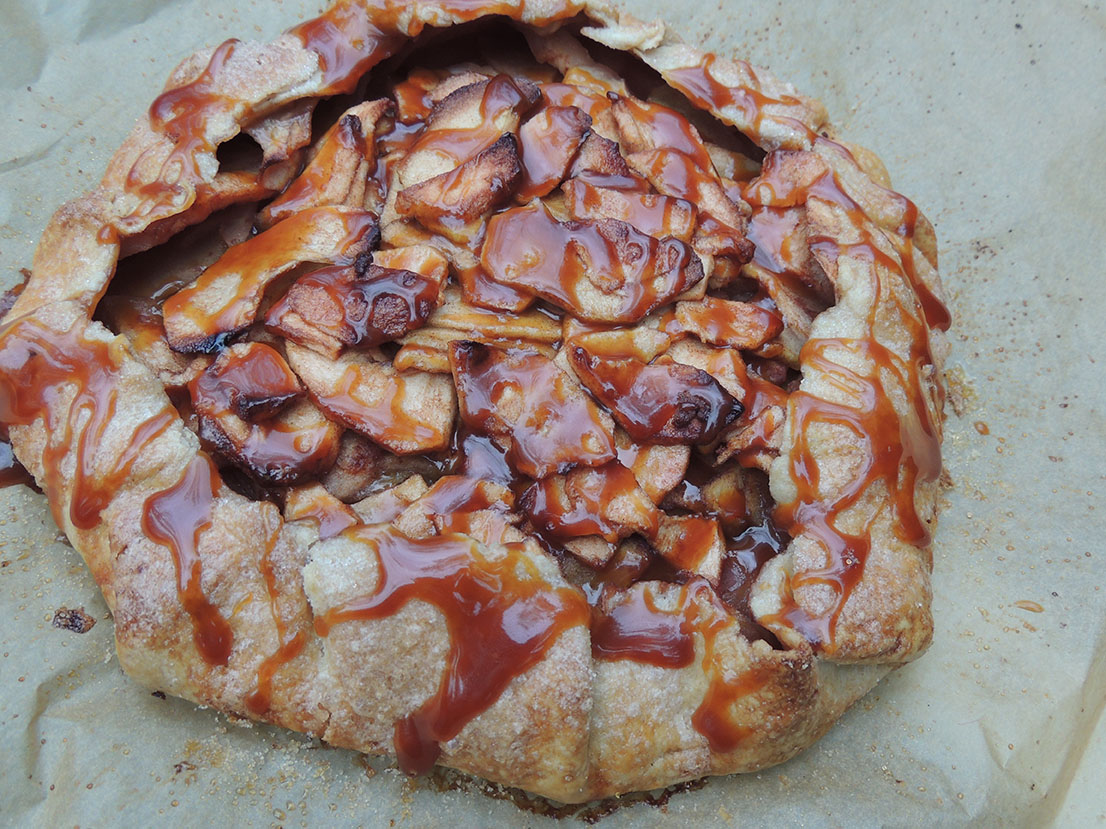 Pastry
1 1/4 cups all-purpose flour
1 teaspoon cane sugar
1/4 teaspoon salt
1/3 cup cold unsalted butter, cut into small pieces
5 tablespoons ice water
Apple topping
5 baking apples such as braeburn, pink lady, cortland, jonagold, granny smith, or mix thereof
1 teaspoon lemon juice
1/2 teaspoon corn starch
1/4 cup cane sugar
1 teaspoon cinnamon
1 tablespoon unsalted butter, cut into small pieces
2 sheets parchment paper
1 egg white
2 teaspoons cane sugar
Caramel Sauce
1/2 cup cane sugar
3 tablespoons salted butter
1/4 cup heavy cream
1/4 teaspoon vanilla
In a food processor, combine the flour, sugar, salt and butter and process for about 5 seconds. Add the ice water and process just until dough starts to come together, about 10 seconds. Lay out a long piece of plastic wrap on a work surface and dump the dough on this. Gather the dough together and pat into a neat disk. Wrap the dough in the plastic and refrigerate while you prepare the apples.
Peel, halve and core the apples and thinly slice them, 1/4 inch thick or less. Place apples in a bowl and toss with the lemon juice. In another small bowl, combine the sugar, corn starch and cinnamon and mix into the apples until evenly coated.
Preheat the oven to 400°F. Roll out the pastry to a 13 inch circle between the two sheets of parchment paper. Remove the top piece of parchment and transfer pastry to a large rimmed baking sheet. Mound the chopped apples in the center of the pastry to within about 1 1/2 inches of the edge. Dot with the pieces of butter. Fold the pastry edge up and over the apples. Brush the pastry with egg white and sprinkle with sugar.
Bake for about 1 hour, until the pastry is nicely browned. Transfer the pan to a rack and let the galette cool. Serve warm or at room temperature with caramel sauce and vanilla ice cream.
To make caramel sauce:
Have all ingredients measured and ready to go. Melt the sugar in a heavy sauce pan over medium high heat, stirring with a wooden spoon or whisk. Be very careful as melted sugar is extremely hot. When sugar starts to boil, add the butter and whisk until smooth. Remove from heat and whisk in cream and vanilla. Let cool a few minutes, then transfer to a glass jar. Let cool completely and drizzle over the galette. Store extra sauce in refrigerator.