This is it…summer's last hurrah before a new school season starts. Celebrate Labor Day by feasting on local organic food from Oryana. At this time of year you can eat meals that are composed entirely of locally produced and grown food and Oryana is the best place to pick up all your weekend feast goodies. From heirloom tomatoes, sweet corn and bright zucchini to locally raised beef and pork, crusty bread and wine, the options are plentiful and fresh. Stock up for the weekend and be inspired by one of these recipes.
Zucchini Corn Ricotta Fritters
2 medium zucchini, coarsely shredded
1 cup fresh corn kernels
2 tablespoons minced onion
¼ cup chopped chives
1/2 cup whole-milk ricotta cheese
2 eggs
½ – 1 teaspoon sea salt and freshly ground pepper to taste
1/2 cup white spelt flour
Oil or lard for frying
Optional: sour cream
Squeeze some of the liquid out of the zucchini with your hands. In a large bowl, combine the zucchini, corn, onion, chives, ricotta, eggs, salt and pepper. Stir in the flour just until incorporated.
Line a baking sheet with paper towels. In a large cast iron skillet, heat oil over medium heat until shimmering. Working in batches, add 2-tablespoon mounds of zucchini batter to the oil, spreading to form 3-inch patties. Fry until browned and crisp, about 2 minutes. Carefully flip and cook other sides. Drain on the paper towels and serve immediately with sour cream.
Fresh Tomato Galette
Serves 6
Adapted from alexandracooks.com
Crust:
1-1/4 cups all-purpose flour
1/3 cup masa harina
1/2 teaspoon sea salt
1 stick butter, cut into 1/2-inch pieces, chilled
1/4 cup ice water
Filling:
2 tablespoons olive oil
1 large onion, thinly sliced
Salt and freshly ground black pepper
2 cloves garlic, chopped finely
1/3 cup chopped fresh basil, plus whole leaves for garnish
1 cup corn
1 large or 2 medium ripe heirloom tomatoes (about 3/4 lb. total) cut into
     1/3-inch slices, drained on paper towels
3 oz. aged Provolone cheese, shredded
1 egg, beaten
In a medium bowl, mix together the flour, masa harina, and salt. Cut in the chilled butter using a food processor or a pastry blender until it's evenly distributed but still in large, visible pieces. Add the ice water and mix until the dough begins to come together. Gather the dough and shape it into a thick disk. Wrap in plastic and refrigerate for at least 1 hour.
Heat the olive oil in a sauté pan over medium heat. Add the onion and cook, stirring frequently, until lightly browned and starting to caramelize, about 15 minutes. Season with salt and pepper. Add the garlic, chopped basil, and corn and cook for 2 minutes. Transfer to a bowl and set aside to cool.
Heat the oven to 375°F. Line the back of a baking sheet with parchment. (Or line an unrimmed baking sheet.) Roll the dough on a floured surface into a 15-inch round and transfer it to the prepared baking sheet.
Spread the onion and corn mixture over the dough, leaving a 2-inch border. Sprinkle the cheese over the onions and corn. Arrange the tomatoes in a single layer over the cheese and season with salt and pepper. Lift the edges of the dough and fold inward over the filling, pleating as you go, to form a folded-over border. Pinch together any tears in the dough. Brush the egg over the exposed crust.
Bake until the crust has browned, about 45 minutes. Slide the galette off the parchment and onto a cooling rack. Let cool for 10 minutes. Stack the remaining 10 basil leaves and use a sharp knife to cut them into a chiffonade. Cut into wedges and sprinkle with the basil.
BBQ Turkey Burgers
1 large onion, halved and sliced
2 teaspoons vegetable oil
1 lb ground turkey
5 tablespoons BBQ sauce, divided
2 cloves garlic, minced
1/4 cup dry breadcrumbs
½ teaspoon sea salt
¼ teaspoon black pepper
Heat oil over medium heat.  Reduce heat to medium low.  Add sliced onion and cook 15 minutes, stirring often until tender and beginning to brown.  Stir in 3 tablespoons BBQ sauce and cook another 2 to 3 minutes.  Set aside.
Combine ground turkey, 2 tablespoons BBQ sauce, garlic, breadcrumbs, salt and pepper. Form into 3 patties.
Heat grill to medium. Lightly oil the grill and place patties on grill. Cook about 5 – 6 minutes on each side, or until an internal temperature of 165 degrees is reached.  Or to cook on the stovetop: heat a heavy skillet over medium heat. Add a tablespoon of canola oil. Cook the burgers until browned, about 5 minutes. Carefully turn and cook until browned and cooked through. Serve, topped with the caramelized BBQ onions.  
Grilled Asian Zucchini Chicken Kabobs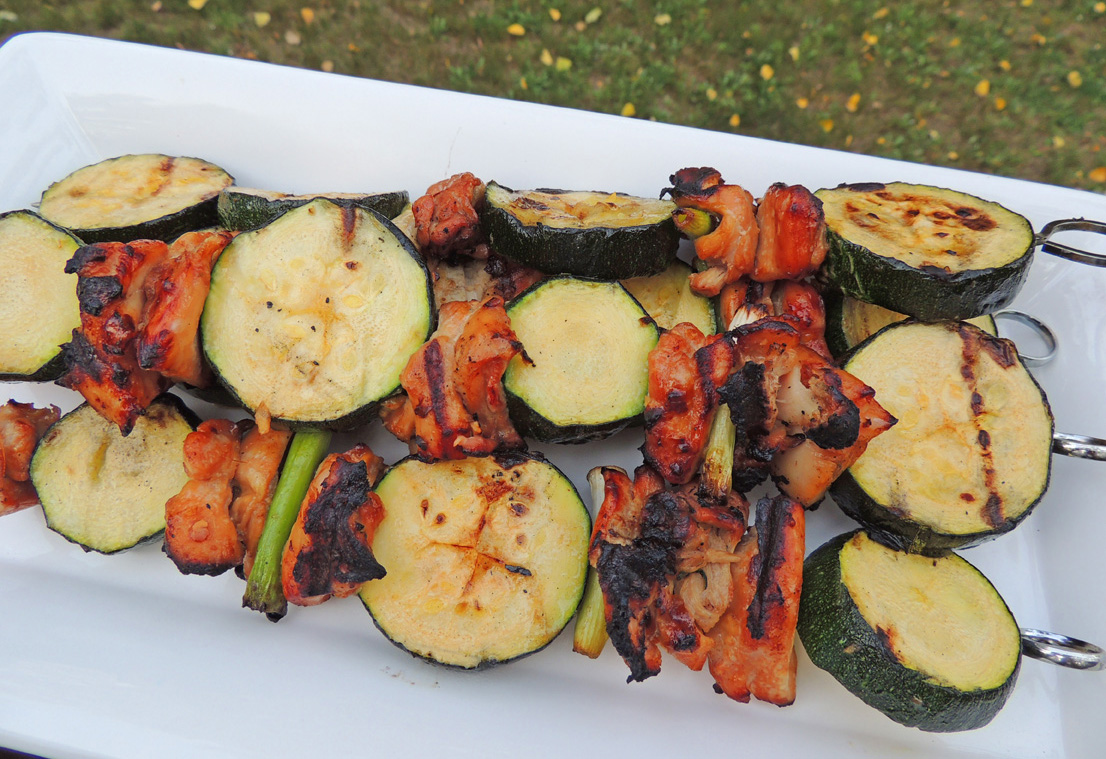 3 tablespoons tamari
2 tablespoons rice vinegar
1 clove garlic, minced
1 teaspoon minced ginger
1/2 teaspoon red pepper flakes
2 tablespoons extra virgin olive oil
2 medium zucchini, sliced thick
4 boneless chicken thighs or 2 chicken breasts, cut into 1 inch pieces
4 green onions, white and light part only, cut into 1 inch pieces
6 metal or bamboo skewers (soak bamboo skewers for 30 minutes before using)
Stir together the tamari, vinegar, garlic, ginger, red pepper flakes, and oil in a  bowl. Add the cut up chicken and zucchini and marinate for 15 minutes.
Heat a grill to medium.
While grill is heating, thread the zucchini rounds, chicken, and onion onto the skewers, alternating between ingredients. For the zucchini, thread them the long way through. For the onion pieces, the short way through. Depending on how many skewers you use, you can double up the chicken pieces. Chicken, onion, and zucchini should be snug on the skewer.
Oil the grill with a paper towel soaked in olive oil. Grill skewers on one side until grill marked and cooked, about 6 minutes. Carefully flip using a spatula and grill other side until done, another 4-5 minutes.
Simple Green Bean Salad
1 pound green beans, trimmed, cut into one inch pieces
3 tablespoons red or sweet onion, finely chopped
handful parlsey, chopped
2 tablespoons extra virgin oil
1 tablespoon (or to taste) white wine or champagne vinegar
1 teaspoon maple syrup
sea salt and pepper to taste
Steam or boil the green beans until tender. Rinse in cold water, drain and place in a bowl. While beans are cooking, whisk together the oil, vinegar, maple syrup, salt and pepper. Toss the beans with the onion, parsley and dressing. Refrigerate for one hour to let flavors meld. Serve at room temperature.
Cucumber Salad with Sour Cream Dressing
3 medium cucumbers, peeled and thinly sliced
1/2 teaspoon sea salt and white pepper to taste
1/3 cup finely chopped green onions or sweet onions
1 tablespoon white or apple cider vinegar
1/3 cup sour cream
1 heaping tablespoon chopped fresh dill or 1 teaspoon dried dill
Stir dressing ingredients together in a bowl. Add cucumbers and toss to coat. Garnish with more dill if desired.
Grilled Potato Salad
2 pounds small yellow or red new potatoes
Sea salt
2 tablespoons minced fresh parsley
1/4 cup extra-virgin olive oil, divided
Freshly ground black pepper
1 small shallot, minced
2 tablespoons chives, chopped
1 tablespoon whole grain mustard
2 tablespoons apple cider vinegar
1/3 cup toasted pepitas (pumpkin seeds)*
Cook the potatoes in salted boiling water until just tender but not mushy. Drain the potatoes.
When potatoes are cool enough to handle, cut each one in half lengthwise and transfer to a large bowl. Or if the potatoes are on the larger side, cut into thick ½ inch coins. Toss with 2 tablespoons olive oil and season with salt.
Combine remaining olive oil, parsley, shallots, chives, mustard, and vinegar in a large bowl.
Heat a grill to medium. Clean and oil the grilling grate.
Place potatoes cut-side-down and cook, turning occasionally, until well-browned and grill marked on both sides, 5 to 8 minutes total. Transfer grilled potatoes to the bowl with the olive oil and herb mixture as they finish cooking.
Toss potatoes with the dressing and pumpkin seeds. Season to taste with salt and pepper. Serve immediately.
*To toast pepitas: heat a small heavy skillet over medium heat. Add in the pepitas and stir for about 4-5 minutes until they become fragrant and start to brown a little. Pour into a bowl to stop the cooking or add directly to your salad.
Kachumber Salad
1 small red onion, chopped
2 medium tomatoes, chopped
3 small cucumbers, chopped
10 mint leaves, chopped
¼ cup cilantro, chopped
1 tablespoon lemon juice
1 tablespoon olive oil
½ teaspoon cumin powder
1 jalapeno, minced or ¼ teaspoon red pepper flakes (optional)
sea salt to taste
Toss all ingredients together. Serve at room temperature.
Blueberry Lemon Crisp
4 cups fresh blueberries
1/2 cup cane sugar
1 tablespoon arrowroot powder or cornstarch
2 teaspoons lemon juice
grated rind from 1 lemon
1/3 cup packed brown sugar
1/3 cup all-purpose flour
3/4 cup rolled oats
Pinch seasalt
4 tablespoons butter, softened
In a bowl combine the blueberries, sugar, cornstarch, lemon juice and rind, and toss to combine. Pour into a lightly buttered baking dish.
In the same bowl combine the flour, brown sugar, oats, salt, and butter. Stir with a fork until the mixture is crumbly and evenly blended. Sprinkle the mixture evenly over the berries and bake at 375°F for 40 minutes until browned and bubbly. Wait a few minutes before serving. Serve with vanilla ice cream.
Paleo Zucchini Brownies
Adapted from delightedmomma.com
1 cup almond butter
¼ cup cocoa
1 cup shredded zucchini
1/3 cup honey, heated
1 egg
1 teaspoon vanilla
1/2 teaspoon baking soda
1/2 teaspoon cinnamon
1 cup dark chocolate chips.
Heat oven to 350°F. Combine almond butter and honey in a bowl. Beat in the egg and vanilla. Stir in zucchini. Sift in the cocoa, cinnamon, and baking soda and mix well. Stir in chocolate chips.
Pour into a greased 9 x 9 baking pan and bake for 30-35 minutes or until a toothpick comes out clean.