Easy Weeknight Back to School Dinners
Looking for easy weeknight dinner inspiration for the first week or two back to school? These recipes are easy to pull together and are kid friendly. Good but fast food for dinner always helps the transition back into the school year. Enjoy!
Loaded Veggie Nachos
Your favorite sturdy tortilla chips
1 can (15 oz) refried black beans
2 cups packed, shredded cheddar or Monterey Jack cheese or combination
1 red or green bell pepper, chopped
Pickled jalapeños
2 green onions, chopped
1 medium tomato, chopped
2 tablespoons fresh cilantro, chopped
1 avocado, diced
sour cream or Greek yogurt
salsa
Heat oven to 400°F. Line a baking sheet with parchment paper. Place chips on the baking sheet. Don't overlap them too much. You want a single layer of chips.
Sprinkle the chips with about 1/4 of the cheese. Distribute small dollops of refried beans all over the chips. Sprinkle with the bell pepper, tomato, jalapeños, and half the green onions. Sprinkle with the remaining cheese and top with the remaining green onions.
Bake until the cheese is melted and bubbling, about 10-12 minutes. Remove the nachos from the oven and sprinkle with the cilantro and avocado cubes. Serve immediately with sour cream and salsa on the side.
Tips for making the best nachos:
Don't use too many chips. Make a single layer of chips so every bite is full of the toppings.
Sprinkle the cheese throughout the toppings, not just on top, so everything is nicely incorporated.
Serve the salsa and sour cream on the side so the nachos don't get soggy.
Have your salsa, sour cream, and avocado ready to go so you can serve the nachos immediately. They cool down very quickly.
Asian Turkey Burgers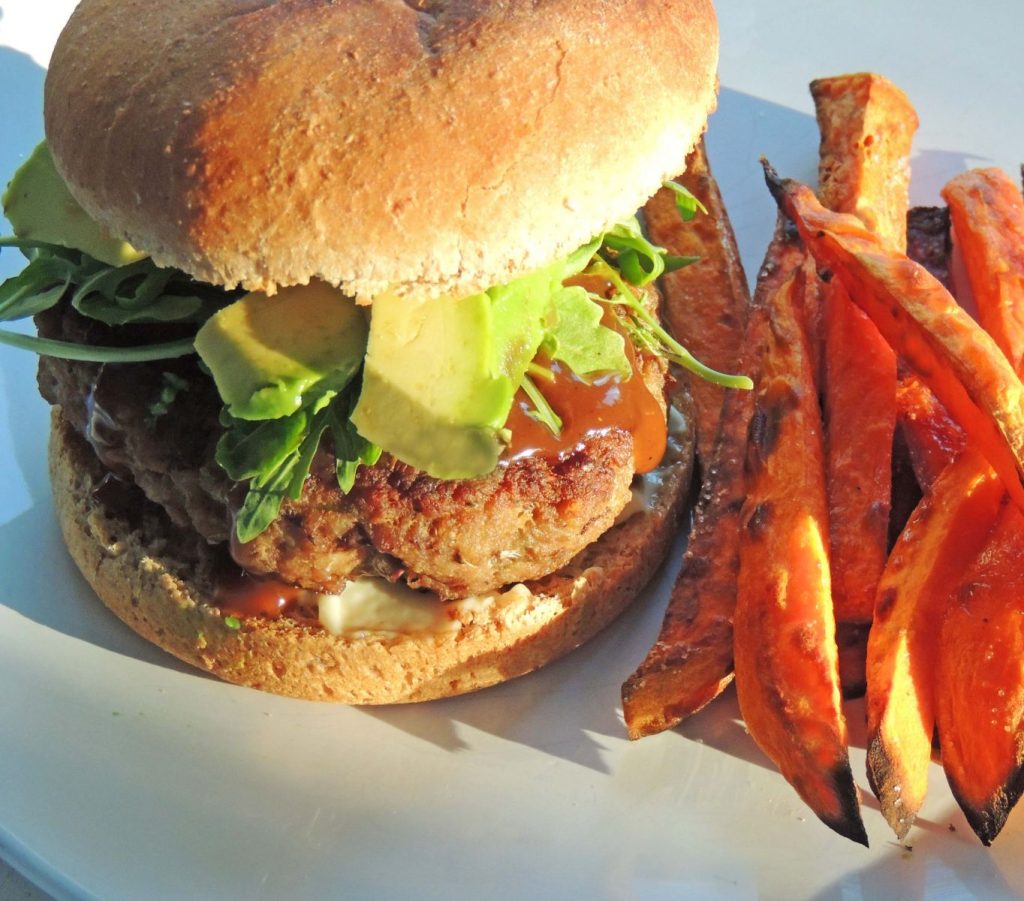 1 lb ground turkey
1 tablespoon fish sauce
1/3 cup bread crumbs
1 egg
2 green onions, minced
1 tablespoon minced cilantro
1 teaspoon minced fresh ginger
1 clove garlic, minced
freshly ground black pepper
1 tablespoon coconut oil
4 hamburger buns
Optional toppings: arugula leaves, wasabi mayo, hoisin sauce, sliced avocado
Mix the turkey, fish sauce, bread crumbs, egg, green onions, cilantro, ginger, garlic, and black pepper in a bowl. Shape into 4 ¾-inch thick patties.
Heat coconut oil in a large cast iron or heavy skillet over medium heat. Cook burgers until nicely browned. Flip and cook until browned on the other side and burgers are cooked through. If they are browning too quickly, turn heat to medium-low. Serve with optional toppings.
Torn Tortilla Spinach Casserole
Adapted from Molly Katzen
Servings 6
12 corn tortillas
2 cups grated Monterey Jack cheese (1/2 pound)
4 eggs
3⁄4 teaspoon salt
2 cups baby spinach leaves, chopped
2 cups buttermilk
Paprika
Optional: canned chopped green chili
Optional toppings: chopped cilantro, salsa, and sour cream or Greek yogurt
Preheat oven to 350°F. Grease a 9 x 13 baking dish. Tear 6 tortillas into small pieces and spread over the bottom of the pan. Sprinkle with half the cheese and half the spinach. Tear the other six tortillas and top the cheese layer. Sprinkle over the remaining cheese. Sprinkle remaining spinach over cheese.
Whisk eggs and add buttermilk and salt and beat again. Pour this over the casserole. Sprinkle lightly with paprika. Bake 40 minutes until lightly browned and eggs are set. Serve with your choice of toppings.
Warm Spinach Salad with Fried Eggs
adapted from Martha Stewart
Serves 4
4 tablespoons extra virgin olive oil
1 lb yukon gold potatoes, cooked, peeled, diced small
Sea salt and pepper
2 tablespoons red wine vinegar
1 tablespoon Dijon mustard
4 green onions, thinly sliced
1/2 pound baby spinach, rough chopped
2 oz parmesan cheese, shaved
4 eggs
In a large heavy skillet, heat 2 tablespoons oil over medium heat. Add potatoes; season with salt and pepper. Cook until potatoes are browned, about 10-15 minutes.
Whisk together remaining 2 tablespoons olive oil with vinegar, mustard, and green onions, salt and pepper in a large bowl. Add the spinach and parmesan (do not toss); set aside.
When the potatoes are done cooking, transfer to the bowl with spinach and dressing. Toss salad until the spinach is slightly wilted, and divide among 4 plates.
Heat the skillet over medium and gently add the eggs. Cook until whites are almost set, about 1 minute. Cover, turn off heat, and let stand until whites are just set but yolks are soft, about 2 minutes more. Top each salad with a fried egg and serve immediately.
Teriyaki Chicken
Recipe by Misaeng Suh Liggett
Serves 4
4 boneless chicken thighs
sea salt
1 1/2 tablespoons soy sauce
1 1/2 tablespoons mirin
1 1/2 tablespoons dry sherry
1 1/2 teaspoons cane sugar
coconut oil
Season both sides of chicken with sea salt.
Mix soy sauce, mirin, sherry, and sugar together in a small bowl.
Heat a cast iron or heavy skillet over medium high heat and add 1-2 teaspoons coconut oil. Swirl to coat the bottom of the pan
Cook thighs about three minutes or until golden brown.
Flip thighs over and cook for about 3 minutes or until cooked through.
When the chicken is done, reduce heat to low and pour the seasoning mixture over the chicken. Cook for a few minutes to allow the mixture to reduce and get thicker and shinier. When it is almost dry, it is done. Serve warm with steamed broccoli and rice.
Cheeseburger Salad
1 1/2 lbs grass-fed ground beef
sea salt and black pepper to taste
1 large head romaine lettuce
3-4 pickles, sliced
1 red onion, sliced into rings
1-2 avocados, cubed
1 pint cherry tomatoes
1 cup shredded cheddar cheese
Dressing:
1 cup mayonnaise
1 tablespoon mustard
1 tablespoon cider vinegar
1/4 cup ketchup
1 teaspoon onion powder
1 teaspoon garlic powder
1 teaspoon paprika
Brown the ground beef in a heavy skillet, breaking the beef into chunks as it cooks. Sprinkle with salt and pepper as it's cooking. Cook until beef is no longer pink. Serve warm beef with lettuce, toppings, and dressing.
Serves 4.