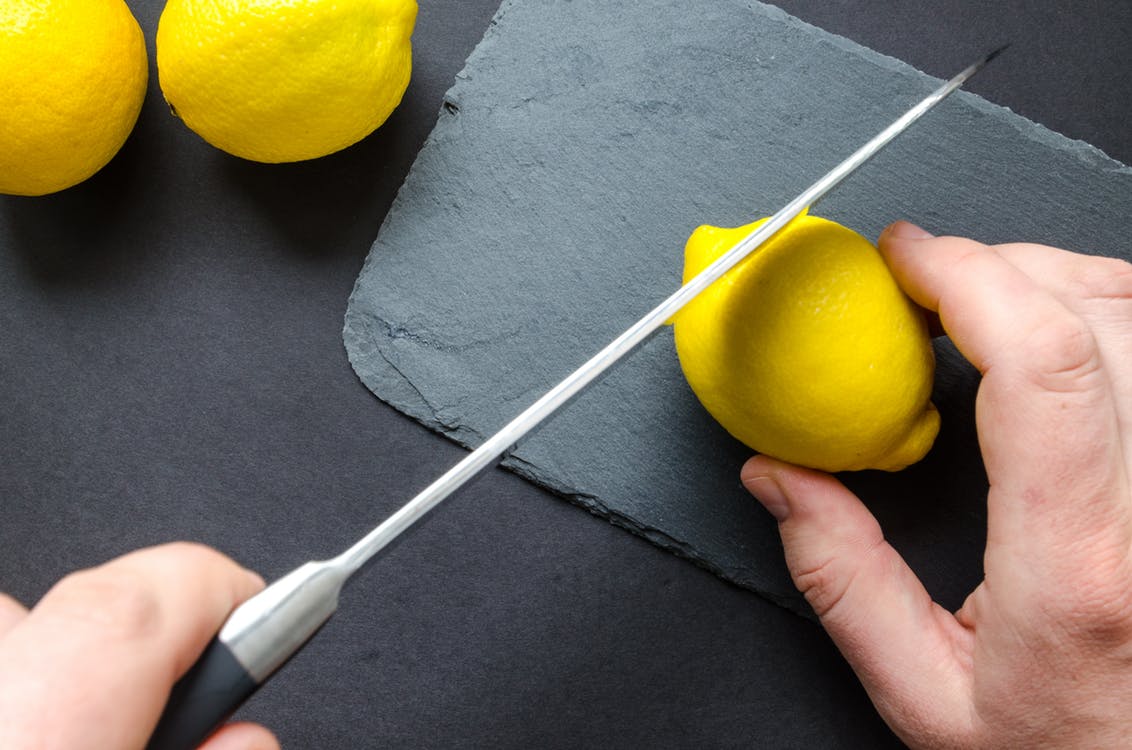 Lemons, those lovely, sunny orbs of tart juiciness, are an excellent flavoring component in both sweet and savory dishes. Beyond the lemon's expected uses such as to serve with fish, to make lemonade or as the sour component in a salad dressing, lemon is a versatile ingredient useful in desserts, marinades, soups, and salads.
Lemons are also known for their cleansing properties so adding some fresh juice to your meal repertoire can also help alkalinize your body. (Yes, even though they are acidic, they are alkaline forming on body fluids and help to restore balance to the body's pH.)
Lemon skins or peels are highly nutritious and flavorful when used in conjunction with the fresh juice. To give anything a lemony punch, finely grating the skin using the smallest holes on a box grater is the way to go. Sometimes you may prefer larger pieces of skin to stand on their own and for this a lemon zester tool comes in handy. And sometimes large chunks of lemon skin can be used to lightly scent a dish as it cooks, after which the piece is fished out before serving.
If lemons begin to harden they are past their prime. You can still juice them but the skin will no longer offer its best oils. The lemons you buy in the store are likely to be Eurekas or Lisbons. Meyer lemons, a sweeter variety, are becoming more common. If you're lucky enough to live in a warm climate and have a lemon tree in your yard, you will be able to harvest lemons all year round. Store your lemons in breathable produce bags in the refrigerator and they will last a long time. Consider them to be a pantry staple.
Jazz up your menu with one of these recipes that feature lemons:
Soups
Lemon Garlic Chicken Soup
Adapted from Rachael Ray
1 head garlic
2 pounds boneless, chicken breasts and/or thighs
1 bay leaf
2 carrots, sliced
2 leeks, washed well, sliced
1/4 head green cabbage, thinly sliced
1 quart chicken broth, preferably homemade
1 cup cooked rice
juice of 1 lemon
sea salt and black pepper to taste
¼ cup chopped parsley
Pre-heat oven to 400ºF. Slice the top quarter inch off the stem end of the garlic head, exposing the cloves. Place the garlic onto a piece of foil and drizzle with a little olive oil. Seal the foil up around the garlic and roast until tender, about 45 minutes.
While the garlic is roasting, place the chicken into a pot with the bay leaf. Add the chicken broth and bring to a boil. Reduce to a simmer and cook about 15 minutes until chicken is done. Remove the cooked chicken from the broth, allow to cool until you can handle it, and dice into bite-size pieces.
Add the leeks, carrots, and cabbage to the pot and return to a simmer.
While the veggies are cooking, squeeze the cloves from the head of roasted garlic into a small bowl. Add a splash of broth to the cloves and mash into a paste. Stir into soup.
When veggies are tender, after about 15 minutes, add the chicken, rice, lemon juice, and parsley. Bring to a simmer again just to heat through. Remove bay leaf. Season to taste with salt and pepper.
Avgolemono (Greek Lemon Soup with Rice)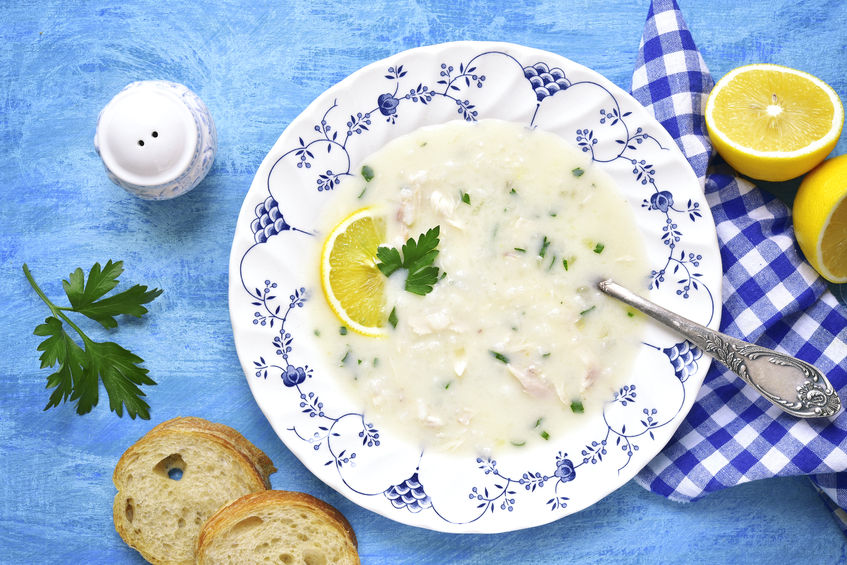 5 cups chicken or vegetable broth
3/4 cup white basmati rice
2 eggs
1 lemon, juiced
Chopped parsley
Salt and white pepper to taste
Optional: cooked chicken meat
Bring broth to boil in a large pot, add rice, and simmer until rice is cooked, 15-20 minutes.
In a small bowl, beat the eggs and lemon juice together. While whisking constantly, slowly drizzle one cup of the hot broth into egg mixture. Return egg mixture to pot, add cooked chicken if desired, and heat through but do not boil. Season with salt and pepper and garnish with parsley.
Salads
Quinoa Tabouleh
1 cup quinoa
juice of 1 lemon
grated rind of 1/2 a lemon
3 tablespoons olive oil
2 – 3 tablespoons chopped fresh mint
1 small sweet onion, diced small
1 roma tomato, diced
1 small bunch parsley, chopped
salt and pepper to taste
Soak quinoa in 1 ½ cups water 8 hours or overnight in a saucepan. Bring to a boil, reduce heat, cover, and cook for 15 minutes. Let cool.
Toss cooled quinoa with remaining ingredients in a bowl.
Baby Greens and Beet Salad with Lemon Chia Dressing
From welcometothetable.com
Dressing:
5 tablespoons lemon juice
2 tablespoons olive oil
1 tablespoon minced garlic
1 tablespoon minced shallots
1 tablespoon Dijon mustard
2 teaspoons chia seeds
1 to 2 teaspoons honey
Pinch each of salt and black pepper
Salad:
1 5-ounce package baby greens
1 small beet, peeled, shredded
1 cup goat cheese, crumbled
1/4 cup toasted walnuts, chopped
Whisk together all of the dressing ingredients in a small bowl and set aside.
In a large bowl, gently toss the baby greens, beets and walnuts with a few tablespoons of dressing. Taste and add more dressing if desired. Top with the goat cheese crumbles before serving.
Lemony Lentil Salad with Salmon
From eatingwell.com
1/3 cup fresh lemon juice
1/3 cup chopped fresh dill
2 teaspoons Dijon mustard
1/4 teaspoon sea salt
Freshly ground pepper to taste
1/3 cup extra-virgin olive oil
1 medium red bell pepper, diced small
1 small cucumber, diced medium
1/2 cup finely chopped red onion
3 cups cooked French lentils
2 7-oz cans salmon, drained and flaked
Whisk lemon juice, dill, mustard, salt and pepper in a large bowl. Gradually whisk in oil. Add bell pepper, cucumber, onion, lentils and salmon; toss to coat.
Dressings
Lemony Vinaigrette
1⁄4 cup extra virgin olive oil
juice and zest from 1 lemon
1/2 teaspoon dried herbs or 1 teaspoon chopped fresh herbs such as thyme, oregano, basil, dill
1/2 teaspoon maple syrup
3/4 teaspoon sea salt
fresh ground pepper
Mix all ingredients except the oil in a small bowl. Slowly whisk in the oil until
Homemade Mayonnaise
1 egg*
1 egg yolk*
1 teaspoon yellow mustard
5 teaspoons fresh lemon juice
3/4 cup avocado oil
1/8 teaspoon sea salt or to taste
Using an immersion blender (a regular blender or food processor would also work) blend the egg, egg yolk, mustard, lemon juice and sea salt until smooth. With machine running, add the oil in a slow drizzle until incoporated and the mixture is creamy. Will keep for 2 weeks in the refrigerator.
*Pastured eggs work best in this recipe
Desserts
Lemon Blueberry Tea Cookies
2 sticks organic butter, softened
1 cup organic natural cane sugar
2 organic eggs
1 teaspoon organic vanilla extract
Zest of one organic lemon
1 tablespoon organic lemon juice
½ teaspoon sea salt
½ teaspoon aluminum-free baking powder
½ teaspoon baking soda
3 cups organic white spelt flour
1 pint organic blueberries
Heat oven to 350. Grease 2 cookie sheets.
Beat butter and sugar together. Add eggs, vanilla, lemon zest and juice and beat well.
In a separate bowl, mix together the flour, salt, soda and baking powder. Add the dry ingredients into the egg/butter mixture. Carefully fold in the blueberries.
Chill dough for about one hour.
Place rounded teaspoons full of dough on prepared cookie sheets one inch apart. Bake for 13 – 15 minutes until slightly browned on the bottom. Remove from oven and let cool for 5 minutes. Remove from baking sheets and cool completely on wire racks.
Makes about 3 dozen cookies.
Gluten Free Ginger Bread with Lemon Icing
1 package Bob's Redmill almond meal (1 lb)
3/4 teaspoon baking soda
1 1/2 sticks butter, softened
½ cup brown sugar, packed
2 teaspoons ground ginger
2 teaspoons ground cinnamon
1/2 teaspoon ground cloves
1/2 teaspoon ground nutmeg
1/2 teaspoon sea salt
1 egg
1/2 cup molasses
Lemon icing:
1 cup confectioners sugar
1 tablespoon lemon juice
Heat oven to 350°. Grease a 9 x 13 inch pan with butter. In a large bowl whisk together the almond meal, baking soda, and spices. Set aside.
Cream the butter and sugar together until fluffy. Mix in eggs and molasses until smooth. Gradually beat in the almond mixture until combined.
Press dough evenly into prepared pan. Bake for 30 minutes. Let cool.
While bread is cooling, mix the confectioners sugar and lemon juice together in a small bowl until smooth. Drizzle icing over cool bread.
Lemon Ricotta Pancakes with Fresh Fruit
3/4 cup white spelt flour
1 teaspoon baking powder
1/4 teaspoon sea salt
2 tablespoons natural cane sugar
1 cup ricotta cheese
2 eggs
2/3 cup milk
1 lemon, zested and juiced
clarified butter
berries, sliced peaches, sliced nectarines, etc.
Combine flour, baking powder, salt, sugar, and lemon zest in a small bowl. Whisk together the ricotta cheese, eggs, milk, and lemon juice in a large bowl. Mix the flour mixture into the wet ingredients until just combined.
Heat a cast iron pan over medium heat. Melt clarified butter in pan and pour about 1/4 cup measure of batter on the pan. Cook until bubbly and browned. Carefully flip and brown on other side. Serve with summer fruit of your choice and maple syrup.
Luscious Lemon Cheesecake
5 tablespoons melted butter
1 ½ cups graham cracker crumbs or about 12 whole graham crackers
¼ cup natural cane sugar
1 16-oz container cottage cheese
3 eggs
3 tablespoons all-purpose flour
finely grated zest and juice of 1 lemon
½ teaspoon vanilla
2/3 cup natural cane sugar
¼ teaspoon sea salt
Heat oven to 350°F. Place crackers in the bowl of a food processor and process. Add the butter and ¼ cup sugar and process until combined and there are no large pieces of cracker. Pat crumb mixture over bottom and onto sides of a 9-inch pie plate.
Wipe out food processor bowl and add the cottage cheese, eggs, flour, lemon juice, lemon zest, vanilla, 2/3 cup sugar and salt. Blend until smooth. Pour into prepared crust. Bake for 40-45 minutes. Allow to cool completely and refrigerate before serving. Serve with fresh berries or berry sauce.
Side Dishes
Braised Greens with Garlic and Lemon
2 bunches kale or collards, washed, stems removed, leaves coarsely chopped
3 tablespoons olive oil
1/2 cup water
sea salt to taste
3 cloves garlic, minced
1 – 2 tablespoons lemon juie
Heat a large skillet over medium heat and add the olive oil, water, and enough kale to cover the bottom of the pan. Allow greens to wilt down before adding more. When all the greens have been added, season with salt, stir in garlic, and cover. Cook about 15 minutes until greens are tender. Stir in lemon juice.
Lemony Green Beans
1 lb fresh green beans, trimmed
2 teaspoons grated lemon rind
3 tablespoons fresh lemon juice
1 tablespoon olive oil
sea salt and black pepper to taste
Boil or steam green beans until tender; drain.
Whisk together lemon rind and juice, olive oil, salt and pepper. Toss with the green beans and serve warm.
Meat
Lemony Grilled Chicken
1 lemon, juiced
2 tablespoons olive oil
1 tablespoon Dijon mustard
2 cloves garlic, minced
Sea salt and freshly ground black pepper
4 boneless chicken thighs
Heat a grill to medium. Whisk together the lemon juice, olive oil, mustard, garlic and salt and pepper in a bowl. Add chicken to coat and marinate at room temperature for 30 minutes.
Remove the chicken from the marinade and discard the marinade. Place the chicken on the grill and cook until golden, about 3-4 minutes per side.
Pork Schnitzel
4 boneless pork chops (1 pound total), pounded to ¼ inch thickness
1/4 cup flour
1 teaspoon salt
1/4 teaspoon freshly ground black pepper
2 eggs, beaten
2 tablespoons milk
1 cup fine dry bread crumbs
canola oil for frying
lemon wedges
Use a mallet to pound the pork cutlets to 1/4-1/8 inch thickness between sheets of plastic wrap.
Set out 3 shallow bowls. One with a mixture of the flour, salt, and pepper. The second with the egg and milk whisked together. The third with a mixture of the bread crumbs and paprika.
Heat the oil in a large skillet on medium high heat. Dredge the cutlets first in the seasoned flour, then dip the cutlets in the egg mixture, and then into the bread crumbs.
Working in batches, sauté the cutlets for about 2-3 minutes per side until golden brown. Remove the cutlets from the skillet, drain on a paper towel-lined plate, and cover with foil or place in a warm oven to keep warm. Serve with plenty of fresh lemon juice squeezed over the cutlets.