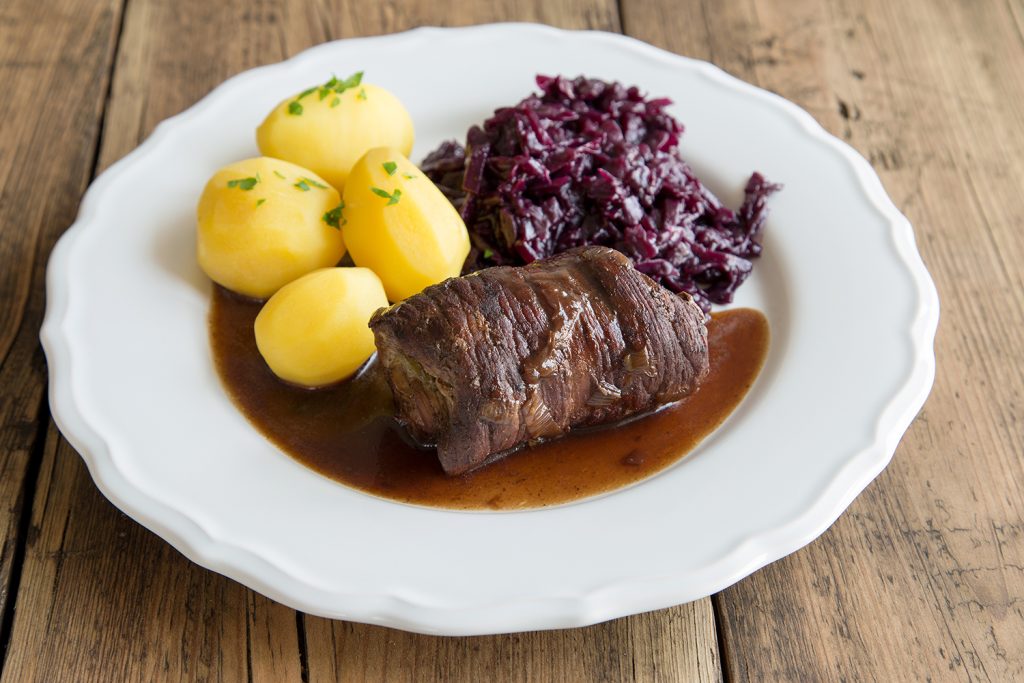 1 ½ lbs flank steak
4 slices thin bacon, cut in half
3 dill pickles, thinly sliced lengthwise
¼ cup yellow mustard
1 teaspoon marjoram
sea salt and black pepper
2 teaspoons vegetable oil
2 cups beef broth
1 tablespoon flour
Cut flank steak into 4 pieces. If thick enough, carefully cut steaks in half to make thinner slices. Lay the pieces between plastic wrap and pound with a meat mallet until they are about ¼ inch thick.
Salt and pepper the meat pieces. Spread mustard on meat. Sprinkle with marjoram. Lay a few slices of pickle over the mustard. Lay a half piece of bacon over the pickles. Carefully roll up the meat, tucking in the pickles and bacon. Secure meat with toothpicks.
Heat oil in a heavy skillet over medium heat and brown the rolls on all sides. Add the beef broth, cover, turn heat to low, and simmer, covered for 1 ½ hours.
Whisk flour into ¼ cup cold water and add to sauce. Stir and turn the heat up to medium. Cook a few minutes and remove pan from heat. Serve with spatzle, potato dumplings, or potatoes.