June is Bee Aware Month at Oryana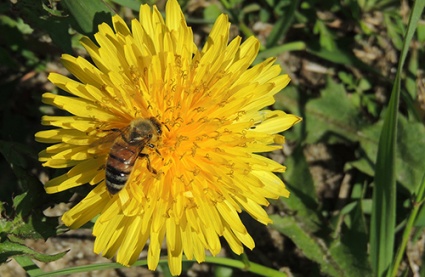 Did You Know That Bees Are Dying?
Over the past few years, bee populations have been dying at a rate the U.S. government says is economically unsustainable. Honey bees pollinate plants that produce about a quarter of the food we consume, including apples, almonds, watermelons and beans. Scientists and bee keepers say the devastating rate of bee deaths is due at least in part to the growing use of a class of pesticides called neonicotinoids.
To raise awareness of the plight of bees, Oryana is featuring bee-related events this month.
Meet Your Local Beekeepers
Wednesday, June 18, 11 a.m. - 1 p.m. • Champion Hill Farm
Tuesday, June 24, 2 - 5 p.m. • Sleeping Bear Farm
Bee Aware Day • Tuesday, June 24
9 a.m. • What will happen if the bees are gone? Stop by and view an interesting and surprising demonstration in the produce department of what fruits and vegetables would no longer be available if bees were to disappear.
Oryana to Donate 1% of Store Sales to Bee Native
Shop on June 24 and Oryana will donate 1% of the day's sales to Bee Native, a non-profit organization whose mission is to provide education about bees and the environment, strengthen the honeybee population and the health of the bees, provide hive equipment, bees and training in organic, chemical free beekeeping methods, and create sustainable micro business opportunities to further train and benefit the community.
Honey Straw Giveaway Shoppers will receive a free local honey straw on Bee Aware, while supplies last.
Come to a Movie at the State Theater! Monday, June 30, 6 p.m. "More Than Honey" Documentary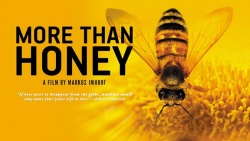 Oryana is hosting a film by Swiss filmmaker Marcus Imhoof, "More Than Honey." This film is about the relationship between humans and honeybees, about nature and our future and was nominated for an Oscar for Best Foreign Language Film at the 86th Academy Awards. There will be a Q & A afterwards with local bee experts.
(Note: This film is showing at the State Theater, 233 E Front Street, Traverse City. Tickets are $8.50 for Adults, $7.50 for Seniors 65 and Over, and $6.50 Students and Kids 12 and Under.)
No Bees, No Food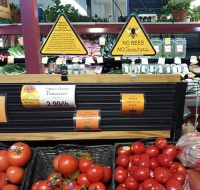 You may have noticed the signs in the produce department that designate which foods are pollinated by bees. It's astonishing to realize how important the bees are to our daily diets. Learn about you can help bees....
Got Local Produce?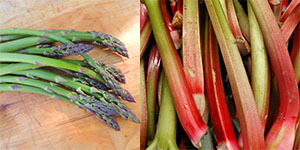 It's an exciting time of year when the fresh, local produce from our wonderful farmers starts to fill up the produce department. Have you tried the asparagus and rhubarb yet? We also have the following local, organic produce:
braising mix
salad mix
bok choy
scallions
Swiss chard
radishes
kale
beets
What's New in Lake St. Cafe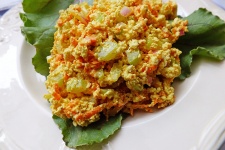 V'egg salad...it's what's for lunch. Made with our own homemade organic tofu and just the right blend of spices and seasonings for the perfect summer sandwich spread or dip.
Co+op Grocery Specials
This Week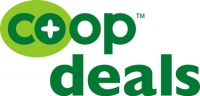 Summer Store Hours
The store is now open Sundays until 9 p.m. and the cafe until 8 p.m. on Sundays.
Note: We will be open July 4, 9 - 6 p.m.
FLASH DASH SALE
Every Sunday in June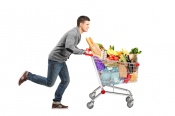 To celebrate our summer Sunday hours, stop by between 7 and 9 p.m. for a special 'Buy 1 Get 1 Free" deal every Sunday.
This Sunday, June 15, buy 1 Alba sunscreen product and get another one, any size, any variety FREE! Available only between 7 and 9 p.m.
Recipe of the Week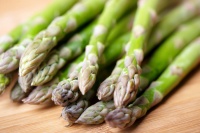 Asparagus with
Goat Cheese and Lemon
5 oz soft goat cheese log
Unbleached flour
1/4 cup breadcrumbs
zest of 1/2 a lemon
2 tablespoons extra virgin olive oil
1 bunch asparagus, trimmed, steamed
1 lemon, cut into wedges

Slice goat cheese into 4 rounds. Mix breadcrumbs with lemon zest in a small bowl. Coat cheese rounds with flour and then breadcrumb mixture, and place in freezer for a few minutes to harden a little. Heat olive oil in a cast iron skillet. Add cheese rounds and cook until browned on each side, about 1-2 minutes. Drain on paper towels and serve immediately with cooked asparagus and lemon wedges.
Product News
Moonworks Celebrates
15 Years in Business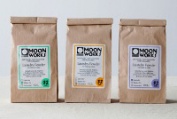 Local laundry soap maker Moonworks has been in business for 15 years! In celebration of this milestone, get $2 off an 80-load container and $1 off a 160-load container during the month of June.
Carlson's Fish is Back!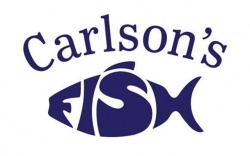 Fish from Carlson's is back in season and we now have in stock in the freezer: fresh and smoked whitefish, fresh and smoked lake trout.
Great Northern Roasting Co. Great Prices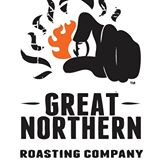 We have 3 coffees at an outstanding price from local roaster Great Northern Roasting. Co. 10 oz bags of Cannonball Espresso, Darkhouse Blend, and Breakfast Blend for only $8.99.
Store Health Tours at Oryana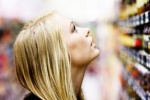 Take a fun, FREE tour through the Oryana aisles and discover ways to integrate healthy whole food into a practical lifestyle. Oryana on a Budget and Eating Healthy for Life tours take place on Thursdays. See the schedule.