Member Appreciation Days All Month at Oryana
Don't forget that you can choose any one day during the month of April to get your 10% member appreciation discount. You can still get other discounts too like Wednesday Senior day, alternative transportation, etc. up to 20%. Please let us know how you like our new approach to member appreciation days.
What Else is Happening This Month at Oryana?
Taxing Stress Relief Day
Tuesday, April 15
Stop by and take advantage of samples and demos of stress relieving products. Sign up for a 10 minute mini chair massage or reflexology session in the Wellness Department.
Chair massages with Amy Yee 12 - 2 pm
Chair massages with Melissa Krull 2:30 pm - 6 pm
Reflexology with Sandy Woodcock 4 pm - 6 pm
Oryana General Membership Meeting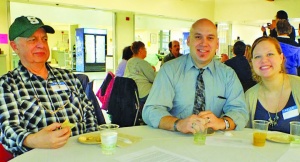 Thursday, April 17
Appetizers 5 pm • Dinner 6 pm • Meeting 7:00 pm
TC Central High School cafeteria, 1150 Milliken Drive, TC
Members are invited to the annual general membership meeting to go over important co-op business. This is a chance to commune with fellow co-opers, enjoy a great dinner featuring our new Indian cuisine, prepared by our own Lake St. kitchen, and vote for new board members. We will also announce the winner of the Oryana community grant. Bring the kids!
Earth Day Champion Tree Giveaway
Tuesday, April 22 • Starting at Noon
Archangel Ancient Tree Archive from Copemish, MI is donating champion black willows and dogwoods to give away to the public. These trees have been cloned from giant champion trees and are extremely hardy. Trees available on a first come first served basis. Read all about Archangel Ancient Tree Archive and consider making a donation to help them continue their work of propogating the strongest and oldest trees on the planet for the purpose of reforesting the earth and helping to offset climate change.
Earth Day Clean Up
Saturday, April 26 • 10:00 am - noon
Join us for an Earth Day clean up event in conjunction with Grand Traverse Conservation District. We will meet behind the TC Chamber of Commerce near the River Guardian, downtown TC and work along the banks of the Boardman River to collect trash and pull invasive garlic mustard plants. Dress for the weather and bring garden gloves. Snacks and drinks will be provided. Afterwards, run on back to Oryana and take part in the G.T. Earth Day parade which begins at the store at 1 pm.
Coming in May...
"The Good Fight" at the Library
Thursday, May 1 • 7:00pm
Join authors Greg Holmes, Ph.D. and Katherine Roth, MD for a presentation and discussion of their book "The Good Fight: A Story of Cancer, Love, and Triumph." Oryana is co-sponsoring this event. Book signing and refreshments will be available. Traverse Area District Library, 610 Woodmere Ave. TC
The Route to India Cooking Class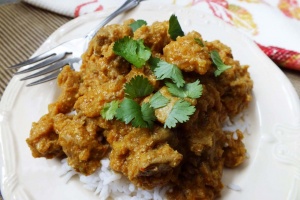 Thursday, May 29 • 6 pm
By popular demand we have added another Indian cooking class taught by Oryana kitchen manager Tom Sisco. Tom traveled to NYC to study with premier Indian Chef Juli Sahni to learn first hand the art of authentic Indian cuisine. He will share his knowledge in this fun-hands-on class. Stop by Customer Service or call 947-0191 to register. Learn more >
Co+op Grocery Deals
This Week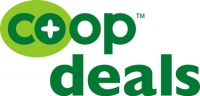 Recipe of the Week
Crockpot Red Cabbage
Although the snow is melting fast now, it will still be awhile before the first fresh asparagus will be available. Try this easy recipe in the meanwhile.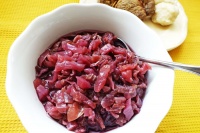 1 small head red cabbage, thinly sliced
1 apple, cored, chopped fine
1 small red onion, chopped fine
1 cup hot water
¼ cup red wine vinegar
1-2 tablespoons natural cane sugar
½ teaspoon sea salt or to taste
Dissolve sugar and salt in hot water. Combine all ingredients in a crockpot and cook at low heat for 8 - 10 hours or overnight.
Empty Bowls
You can help fight hunger in Northern Michigan by attending Empty Bowls this Sunday, April 13, an event to benefit Food Rescue of Northwest Michigan. It's from 11am to 2pm at the Hagerty Center in TC.
Enjoy a sampling of soup and bread, donated by local restaurants including Oryana. Each $15 ticket sold translates to about 80 meals for hungry people across Northern Michigan. Tickets at Oryana, Goodwill offices on S Airport Rd., online or at the door.
Easter at Oryana

Stock up on Easter candy from Grocer's Daughter Chocolate and Sjaak's. Organic milk and dark chocolate bunnies, eggs, peanut butter filled goodies, etc. Also Eco Eggs coloring kits.
Egg Coloring Demo on Saturday, April 12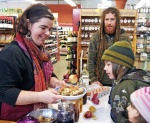 Laura will show you how to color Easter eggs naturally using vegetable dyes made from things like beets and turmeric.
12 - 2 pm
QUICK LINKS
Events
Cafe
Recipes
Specials
Oryana Blog
Oryana 40th Video
Pinterest
Facebook