Happy First Day of Spring!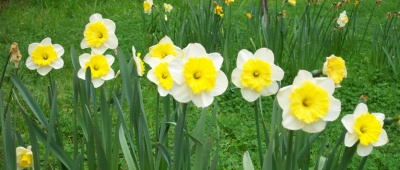 The mountains of snow are finally beginning to melt, birdsong is filling the air, and we are looking forward to a fun and busy April. Our General Membership Meeting is April 17, we are hosting an Earth Day clean up workbee, and we will be giving away more champion trees! Enjoy the first crocuses poking out to welcome spring and join us for one of our April events.
Members Make a Difference! Vote Today!
Voting for new board members and the Oryana Community Grant is under way right now. If you haven't already, please go to Customer Service to get your ballots and vote for these important co-op happenings.

Oryana Community Grant
We will be awarding one non-profit organization $5700! You can help decide which organization of the 3 finalists will get this money. Every vote counts!
Board Candidate Voting
You have a say in how your co-op is governed by voting for the member candidates you think are most qualified. These are privileges you won't find at other businesses.
New! Shop Your Own Member Appreciation Days Coming in April...
Instead of the usual 2 days to shop for Member Appreciation Days, members will now be able to choose any day in April to get their 10% discount. More members will be able to take advantage of the discount, the store will be less crowded, parking will be less of an issue, and we hope the whole experience will be more pleasant. Find out more >
Tips for Saving Money at Oryana
Clearance Deals Check out the clearance rack that always has great deals on a variety of items. Right next to the water filter station.



Field Day - Look for Field Day brand products which are a high quality, mostly organic and low priced alternative to other brands. Sold only in independent natural food stores. Field Day items we carry include pasta, salsa, beans, paper products, and many more.

Wine Discount - Did you know that if you purchase 6 or more bottles of wine you get 10% off?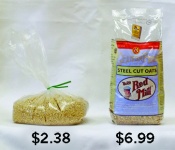 Shop in Bulk - Rack up significant savings by buying in bulk. Why buy a whole bottle of an exotic spice when you can buy exactly the amount you need? Maybe you just want to buy a small amount of a different grain just to try it out. Save on packaging costs too. (Pictured: 1 lb of bulk and packaged steel cut oats.)

Fresh Meat Sale
Starting Friday, March 21 through Sunday the 23rd or until the meat runs out. Grass-fed beef from Earthwork Farm, 10% off various cuts and ground. Stock up for spring!
Fermentation for Beginners Class
We have a few spots left in our Fermentation for Beginners class on April 10. In this class you will learn how to make sauerkraut, kimchi, and kombucha. Hands on and fun! Registration is required. Call 947-0191. Details>
Upcoming Events
Sat. March 22, 12 - 2 • Oryana Kids (OK Kids) in the Kitchen Demo Kids can learn how to roll vegetable sushi to make California Rolls
Thursday, April 10, 6 pm - Fermentation for Beginners Cooking Class (Registration required) Learn how to make sauerkraut, kimchi, and kombucha. Take home a jar of kraut to ferment and your own kombucha "mushroom." $30/members, $35/nonmembers. Call 947-0191 to register.
Sunday, April 13, 11 - 2 pm Empty Bowls at the Hagerty Center, TC • Co-sponsored by Oryana, a fundraiser for Food Rescue. Enjoy a bowl of soup and take home a hand-made bowl $15.
Tuesday, April 22 - Champion Tree Giveaway • Donated by Archangel Ancient Tree Archive. Available starting at noon until the trees are gone. First come, first served.
Saturday, April 26, 10 - 12 pm - Earth Day Workbee Everyone is invited to remove invasive garlic mustard and pick up trash by the Boardman River. Snacks included. Bring work gloves and dress for the weather. Meet behind the TC Chamber of Commerce by the River Guardian.
Co+op Deals Grocery Specials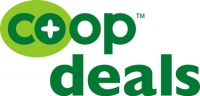 Recipe of the Week
Kale Caesar Salad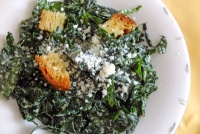 ¼ cup extra virgin olive oil + 1 TBS
2 TBS lemon juice
1/2 tsp Dijon mustard
1 teaspoon Worcestershire sauce
3 cloves garlic, minced
3 anchovy fillets
3 TBS mayonnaise
black pepper, to taste
2 TBS grated Parmesan cheese, plus more for serving
1 bunch kale
Croutons

Combine 1/4 cup olive oil, lemon juice, garlic, mustard, anchovies, and Worcestershire in a blender. Blend until smooth. Add mayonnaise, pulse until smooth. Season with black pepper. Stir in grated Parmesan.
Rinse and dry kale leaves. Remove tough stems and tear into bite size pieces. Add kale to a large salad bowl and toss with 1 tablespoon olive oil. Massage kale leaves with your fingers until they soften and become shiny, about 3 minutes.
Add dressing and croutons and toss salad to coat. Top with additional grated Parmesan and serve.
New Products to Try

Pamela's Figgies and Jammies - A delicious line of gluten-free fig bars in 4 flavors

Kit's Organic gluten-free Fruit and Seed Bars - apricot sesame seed, lemon vanilla chia, and cherry pumpkin seed


Bhuja Snacks - Crunchy multigrain snack with intriguing flavors: seasoned peanuts, cracker mix, and nut mix.

Real Sticks - Vermont smoked turkey sticks: honey mustard, ancho, and uncured pepperoni


Private Preserve Wine Preserver - Uses inert gases to keep opened wine fresher longer. In the beer and wine section.

Vibrant Cleanse Organic cleanse based on the lemonade diet, with lemon, maple syrup, & cayenne.
Oryana For Good
Green Donation
Oryana donated 2% of sales, from March 17 ($711) to the Grand Traverse Conservation District. Thank you members for shopping on that day!
Food for Homeless Families
We have been collecting cash and food donations all month to be distributed to area homeless families by NW Michigan Community Action Agency. Donate a non-perishable food item or make a cash donation at the register, through the end of March.

Brownwood Farms Products are No GMO
We are pleased to share that Brownwood Farms, a local food producer, has verified 18 of their products to be GMO-free through the Non-GMO Project. This is a trail blazing accomplishment and we applaud their dedication to providing GMO-free foods.