Member Appreciation Days
Wednesday, January 29 & Thursday, January 30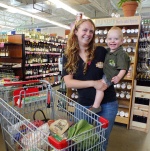 Members long-time and new, be sure to stop by and save a bundle, 10% off everything in the store. Curbside pick up available. Bonus for seniors: get your 5% off on Wednesday and Thursday! Enter to win a folding bike and other cool prizes!
*Beer, wine & preorders exempted


Community Grant Voting Now Underway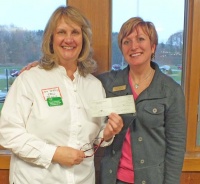 Members...voting is now underway for the 2014 Community Grant. One of the privileges of Oryana ownership is the opportunity to vote for the organization of your choice to receive our community grant. We have 3 finalists this year: TC Community Garden, Food Rescue of NW Michigan, and Invasive Species Network of NW Michigan. Please read about these organizations and then stop by Customer Service the next time you are in the store and pick up your ballot.
Big Game Food

Hosting a party? What's your game plan? Stop by Customer Service and order some tasty chow for your football-loving crowd. We've got chicken wings, chili with all the toppings, jalapeno cornbread muffins, brownies, and more.
A Taste of India in the Cafe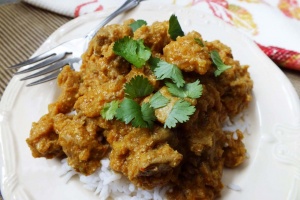 Have you tried our new Indian food yet in the cafe? Pictured above is our popular chicken korma, a braised chicken dish with yogurt and spices and served with rice. We are also offering Indian soups and hot entrees on our hot bar.
Oryana in the News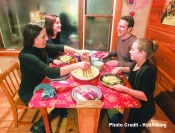 Oryana was recently featured in the Traverse City Record Eagle in a story highlighting how it's possible to feed a family of 4 healthy food and still stay on a budget. If you missed it, you can read it here.

Upcoming Events
Hit the Tart Trail with Oryana!
Sunday, Feb. 23, noon - 3 pm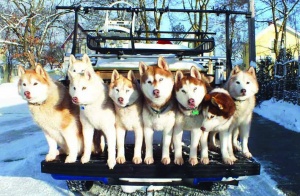 Join Oryana for an afternoon of FREE fun along the trail! Trail-side festivities include:
Meet a team of working sled dogs! Kids will have the chance to take sled rides (weather permitting.)
Snowshoeing and trail walks
Snacks, cocoa and tea
Fun kids activities
Fat Bike demos courtesy of McLain Cycle & Fitness
TART's Bike Plow will be on exhibition
No need to RSVP – just show up dressed for the elements and ready to have a good time enjoying the outdoors and trails!
Co+op Grocery Specials This Week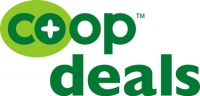 Recipe of the Week
Beet Borscht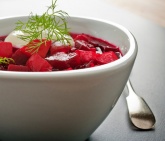 A classic, simple soup, this recipe would also be perfect for making in a crockpot...just place all ingredients in a slow-cooker, turn on low and forget about it. When you come home from work enjoy the aroma of hot soup!
4 beets, peeled, diced
1 large carrot, diced
2 stalks celery, diced
1 onion, diced
sea salt to taste
1 teaspoon dried dill
6 cups beef broth (or vegetable broth)
1 cup shredded cabbage
1 tablespoon lemon juice
Sour cream, optional
Place all ingredients except lemon juice and sour cream in a soup pot and bring to a boil. Reduce heat , cover and simmer for 30 minutes or until vegetables are tender. Just before serving, stir in lemon juice. Top each serving with a dollop of sour cream if desired. Serves 6

Useful Oryana Blog articles
How to Make Dairy-Free Creamy Dishes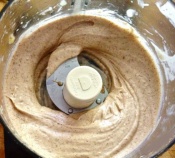 How to Make Nutritious and Delicious Bone Broths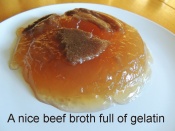 Take Action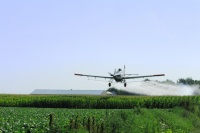 Dow Chemical is pushing for an unprecedented government approval of genetically engineered (GE) versions of corn and soybeans that are designed to survive repeated dousing with 2,4-D, half of the highly toxic chemical mixture known as Agent Orange. Urge the USDA to reject these new versions of GE corn and soy. Sign the petition.
•Hot Tip•
Staying Warm This Winter

Ginger promotes blood flow to your extremities, helping to keep you warm from your nose to your toes.