Happy Holidays to Everyone!

Holiday Store Hours
Christmas Eve 7:30 - 3 pm
Closed Christmas Day
New Year's Eve 7:30 - 6 pm
Closed New Year's Day

Get Your Fresh Duerksen Turkey
There is still time to get your FRESH Duerksen turkey, $3.29/lb. This is a fabulous tasting bird, the best you can find anywhere, pastured, antibiotic and GMO free, raised with care by the Duerksen family in Mancelona. Consider buying one to freeze for later, or.....you will have to wait until next Thanksgiving to enjoy the best holiday bird.



Holiday Picks
Wine
Anciano Tempranillo 5 year $10.99
Anciano Tempranillo 10 year $12.99
Produce
Organic green beans $4.99/lb
Organic local carnival squash $1.69/lb
Sweets
Sjaaks truffle boxes - prices vary
Grocer's Daughter Chocolates - prices vary
Organic Candy Canes - $3.99
Grocery
Fresh Duerksen turkeys $3.29/lb
Beeler's hams $7.29/lb
Last Minute Gift - An Oryana Gift Card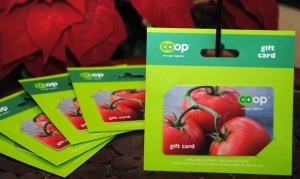 Everyone loves gift cards from Oryana, get one today for as little as $5. They never expire. Makes a great stocking stuffer.

QUICK LINKS