Member Appreciation Days Coming Up
Wednesday, July 24
Thursday, July 25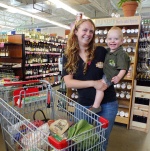 Shop on Member Appreciation Days and get 10% off your bill. Senior Day 5% Discount Available on Both Days! Prefer a quieter shopping experience? Consider shopping on Thursday when it will likely be less hectic. Enjoy the convenience of curb side pick-up. Not a member? Join and Save!

Food Preservation Classes
There are still spaces available in our food preservation classes.

Canning High Acid Foods using a Water-Bath Canner
Canning Low Acid Foods using a Pressure Canner
Freezing and Drying Foods
Cost: All 3 for $35 or $15 each payable at class
Registration: please RSVP at Customer Service in person or by calling 947-0191. Click here for class details and dates.
Kids Cooking Class
Sign your child up for a fun cooking class called Mexican Fiesta! Students will make a meal including tortillas from scratch. What's on the menu:
Veggie Enchiladas
Stuffed Tomato Flowers
Fresh Fruit Almond Torte
Thursday, August 8,
10:30 am - 1 pm
This class is for children ages 9 - 12. Sign your child up at Customer Service or call 947-0191. Cost: $20/members or $25 non-members.
Local Produce at Oryana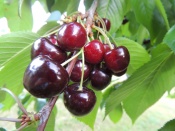 It's a farmers market at Oryana! If you missed your local farmer's market this week, we have a wonderful selection of fresh, local, organic produce. We love our farmers! Here is some of what we have...
• cherries
• greens
• blueberries
• creamer potatoes
• lettuce - several varieties
• kale - several varietes
• peas
• broccoli
• tomatoes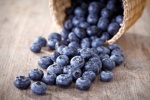 Michigan-Grown Blueberries Available by the Case
Organic 10# boxes of blueberries available for $68.99. Members can preorder and get 20% off. (The season lasts about 2 weeks.)
Patronage Rebate and Furry Friend Day Donations

Oryana members are a generous bunch. Many of you donated your patronage rebate checks to Fresh Food Partnership and Food Rescue and $1588 went to these organizations. Thanks Oryana members for your generosity and for helping our community eat well!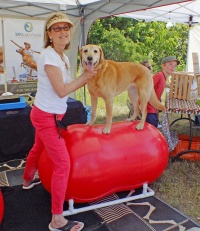 Oryana donated $400 each to Cherryland Humane Society and AC Paws from our Furry Friend Day store sales last Saturday. It was a fun day and we are grateful for Oryana members and shoppers who patronized the store that day and helped make this contribution happen!
Upcoming Events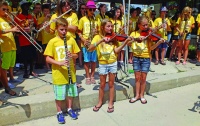 Wednesday, July 31 Archipelago Project Concert
3 pm on the patio
Wednesday, August 7 Cooking with Kids at the Fair
at the Northwest Michigan Fairgrounds 2 - 6 pm

TC Film Festival!
Oryana is once again co-sponsoring a film festival movie with Grand Beach/Sugar Beach Resorts. The film is "Sunlight Jr."and plays at Lars Hockstad Auditorium, Saturday, August 3 at noon.
Co+op Grocery Deals
This Week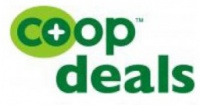 Recipe of the Week
With plenty of fresh local greens available, try this easy and comforting dish. (Vegan & gluten-free)

Coconut Braised Greens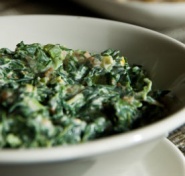 1 bunch greens, such as kale, collards, or chard, washed, stems removed, leaves chopped
3 tablespoons olive oil
½ onion, diced small
1/2 cup coconut milk
1 tablespoon lemon juice
Sea salt and pepper to taste

Heat oil in a large skillet over medium heat. Add onion and sauté, stirring occasionally, until translucent and soft, about 3 minutes. Add greens and toss to coat with oil. Sauté over medium heat until leaves begin to turn brilliant green and wilt down. Mix together coconut milk and lemon juice Pour into pan and cover. Cook until leaves are tender, 5 to 8 minutes, adding 1 to 2 tablespoons of water if pan becomes dry. Season with salt and pepper.
More Recipes to Try...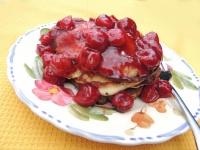 Did you know we have some great recipes on our website? Here are a few that feature seasonal produce:

Farro Blueberry Salad
Quinoa Tabouleh with Mint
Cold Cucumber Soup
Collard Greens with Farro
Kale with Caramelized Onions Almond Pancakes with Cherry Sauce
Beef and Broccoli Stir Fry

The Last Crop
"Asphalt is the land's last crop"
~Rupert Cutler, Environmentalist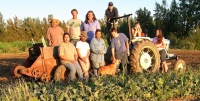 Oryana is supporting a movie currently in production about a family's struggle to ensure their California farm's future as development looms. Watch the trailer HERE.



Keep up with what's going on. Like us on Facebook.


Specials and Sales
Fresh Meat Sale this Weekend
Bulk Specials
Wellness Specials
Produce Specials
Oryana on a Budget Store Tour

Summer Fun Fact
The most ice cream is sold during the month of July. Americans eat an average of 5 1/2 gallons of ice cream per year.