For Your Convenience...a New ATM Machine!
In partnership with TBA Credit Union, we now have a convenient ATM machine in the store by the east entrance near the cash registers. For more information about the machine click HERE.
So Easy to Preserve
Canning Classes for Beginners
Oryana, in conjunction with MSU Extension Service, is offering a 3-part series of food preservation classes. These classes will demystify the art of canning, freezing, and drying so that you can preserve the bounty of the season in your own kitchen.

Cost: All 3 for $35 or $15 each payable at class
Registration: please RSVP at Customer Service in person or by calling 947-0191
Class location: 520 West Front Street, Ste A, Traverse City, next to the fire station.
Canning High Acid Foods using a Water-Bath Canner
Monday, July 22, 6-8 pm
Learn the difference between high and low acid foods as well as the basics for safely canning high acid foods using a water-bath canner. Participants will become familiar with canning equipment and how to avoid food spoilage.
Canning Low Acid Foods using a Pressure Canner
Monday, July 29, 6-8 pm
Learn the difference between high and low acid foods as well as the basics for safely canning low acid foods using a pressure canner. Participants will learn the latest USDA guidelines for canning low-acid foods and how to test their equipment for accuracy.
Freezing and Drying Foods
Monday, August 5, 6-8 pm
Learn how to freeze foods safely while preserving the quality and texture of your fruits and vegetables. Participants will also explore various drying methods that dry foods effectively and reduce the incidence of spoilage.
Kids in the Kitchen Summer Cooking Classes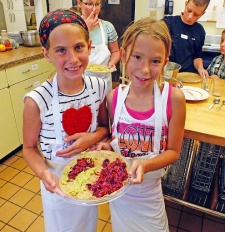 We are offering 2 fun, hands-on summer cooking classes for children ages 9 - 12. Your child will make a delicious Italian or Mexican meal and have recipes to take home.

Class dates:
Thursday, July 18, 10:30 am - 1 pm
Thursday, Aug. 8, 10:30 am - 1 pm
Location: Grace Episcopal Church, TC
Cost: $20 members/$25 non-members

MORE INFO >

Health Tours at Oryana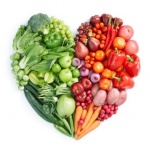 Take a fun tour through the Oryana aisles and discover ways to integrate healthy whole food into a practical lifestyle. You'll discover foods and supplements to support health as well as ways to save money and eat more locally. Sign up for a tour today! Samples and handouts provided. Tours are FREE but registration is required. Please register at Customer Service or call 947-0191. Click HERE for tour schedule.
Lake Street Cafe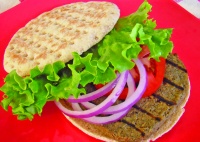 New! Hamburger made with local, grass-fed beef on a whole wheat bun with all the fixings + chips. $9.95

Frappes
Cool off with a blended ice coffee drink • mocha latte, vanilla, and vanilla chai $4.50



Upcoming Events
July 10 - Green Cuisine (Register Here)
July 13 - Furry Friend Day at Oryana (Details)
July 19 - Fresh Meat Sale
July 24 - 25 Member Appreciation Days • Senior discount available both days

Happy Independence Day to Everyone!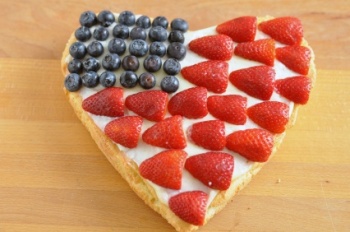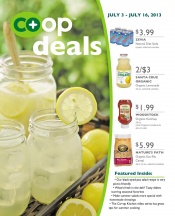 The store will be
OPEN July 4, 9 - 6 pm
Now Open Daily Until 9 pm
Cafe open Until 8 pm
Mon-Sat 7:30 am - 9 pm
Sunday 9 am - 9 pm

---
New Recipe of the Week on our Homepage
Coming to you every week on our website homepage, a recipe featuring fresh, local ingredients.
Kale with Bacon, White Beans, and Garlic Scapes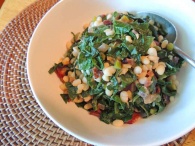 1 bunch kale, washed, thick stems removed, chopped
2 garlic scapes, chopped
1/2 a red onion, chopped
3 slices thick-cut bacon, chopped
1 cup cooked white beans
2 tablespoons cider vinegar
1/2 cup chicken broth
a few dashes hot sauce
sea salt and pepper to taste
Cook bacon over medium heat in a large cast iron skillet until crispy. Turn off heat and remove bacon with a slotted spoon. Pour off all but 1 tablespoon bacon fat and reserve for another use.

Turn heat on again and add onion and garlic scapes and cook until onion is lightly browned, about 4 minutes.

Add the kale, broth and vinegar and toss well. Cover and cook for 5 minutes. Stir in the beans, bacon, salt and pepper and continue cooking until beans are heated through, another few minutes. Serves 4.
---
Products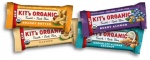 Kit's Organic Fruit & Nut Bars from Clif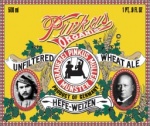 Pinkus Organic Beer - 3 flavors, 16 oz. bottles $4.39, 10% off thru July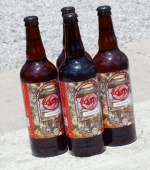 Oryale, crafted by Right Brain Brewery 10% off until supplies last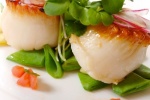 Legacy Seafood Bay Scallops
40% off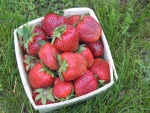 Organic Strawberries from Ware Farm $6.49/qt