Our 40th Anniversary Celebration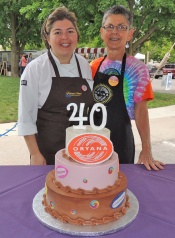 We had a fantastic turnout on our 40th birthday party June 8 at the G.T. Commons. The weather was perfect and it was a relaxing afternoon of Oryale beer, birthday cake, paella from Sam Porter, live music, stories from long-time members, and tons of children's activities. If you missed it, check out the photos HERE. We still have 40th t-shirts for sale.

New Products!

Quark Cheese
German for fresh curd, Quark is eaten regularly throughout Germany. It has more tang and less fat than cream cheese and is wonderful with jam on toast, to make cheesecake, on potatoes, or with granola. From Vermont Creamery.
Beemster Graskaas Cheese
This rich and creamy Dutch cheese is aged for 1 month and comes from the first milkings of cows on spring pastures. Available seasonally.
Honest Fizz Root Beer
Organic, zero-calorie rootbeer. Sweetened with organic stevia and erythritol. Thirst quenching beverage just in time for hot summer days.



ICU Eyewear
Sophisticated and eco-friendly, ICU Eyewear was the first to develop a manufacturing process for eco-friendly reading glasses made from reclaimed plastic, recycled metal and sustainable bamboo. ICU donates thousands of reading glasses to those in need, all over the world. 20% off sunglasses and reading glasses through June 30.
Feelgoodz Footwear
Eco-friendly, ethical flip flops. Working directly with co-ops in Thailand and Guatemala, Feelgoodz focuses on human empowerment from farm to foot. Variety of styles.

Fresh Local Produce is IN!

It's starting to look a lot like a farmer's market in the produce department. Luscious strawberries from Ware Farm, just-picked lettuce, spinach and arugula, crunchy radishes, and plenty of cooking greens. See what's in stock.
Upcoming Events
This Sunday, June 30 • Celebrating our new store hours, come when the store opens at 9 am and enjoy free organic coffee and scones from Lake St. Kitchen, until they're gone. Then in the evening, relax on the patio to the tunes of The Accidentals, 6:30 - 7:30 pm.

July 10 • Green Cuisine at Food for Thought in Honor, 5 pm. Oryana will be participating in this all-local food and wine extravaganza. This event is free but you can register HERE.

July 24 & 25 • Member Appreciation Days. 10% off, senior discount applies on both days!


Co+op Deals
Grocery Specials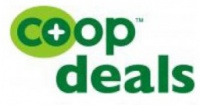 New Expanded
Store Hours!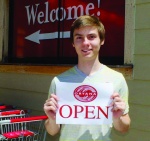 Now open nightly until 9 pm
Mon - Sat 7:30 am - 9 pm
Sunday 9 am - 9 pm
Cafe closes at 8
Recipe of the Week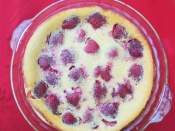 Fresh local, organic strawberries from Ware Farm in Bear Lake are here! Here is one easy, delicious way to enjoy them.


Strawberry Clafouti
Butter for greasing baking dish
8 oz strawberries, hulled and halved lengthwise
3 eggs
1 cup milk
1/2 cup flour
1/3 cup natural cane sugar
1 teaspoon vanilla
1/8 teaspoon cinnamon
1/4 teaspoon salt
Preheat oven to 350°. Grease a 2-qt., deep dish pie, or gratin dish with butter. Arrange berries, cut side down, in bottom of dish.

In a blender, blend eggs, milk, flour, sugar, vanilla, cinnamon and salt until smooth. Pour batter over berries.

Bake until puffed, golden brown, and set in the center, about 45 minutes. Serve warm with whipped cream.


Follow us on Facebook



Happy Summer Solstice and first day of summer!