Happy Mother's Day from Oryana!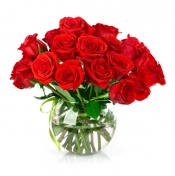 We will have fair trade roses from Ecuador on Friday for mom. $1.99 a stem in multiple, lovely colors. (Here is an interesting article about how fair trade wages for rose growers significantly impacts lives.)



Ember Jewelry
Lovely jewelry made with tagua nut that mom will love. Tagua is considered the new ECO "ivory" because of it's strength, color, beauty and resilient qualities. Tagua seeds come from the Tagua Palm tree of the tropical regions between Colombia and Ecuador. Necklaces $27.99, earrings $13.99 and bracelets $17.99.

Organic Perfume!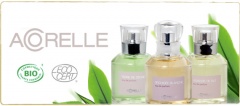 A special treat for her! Acorelle is a French brand of fragrances for women; organic, wonderful and delicate with aromatherapy properties that destress, relax and energize. In a variety of scent combinations. $26.99

Chocolate!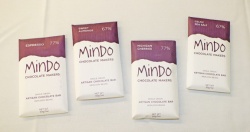 Michigan-made, Mindo strives to create a sustainable, environmentally friendly company that pays a fair wage and treats employees and suppliers fairly. Made from sustainably grown cocoa beans from Ecuador. Celtic sea salt, espresso, sweet almonds, and Michigan cherry bars, $2.99
Watch Our 40th Anniversary Video!
Filmed by Stonehut Studios, a look at our accomplishments from the last four decades. This will make you feel all warm and fuzzy about your co-op!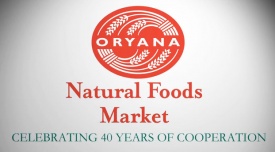 The Patronage Rebate Check is in the Mail!

We have just mailed out our first ever patronage dividend checks to members this week! This is an exciting first in our history and we hope you enjoy the spring bonus. Members can donate their rebate to Fresh Food Partnership and Food Rescue of NW Michigan by endorsing & signing the check to the selected nonprofit and mailing or dropping it off at Customer Service. More info on the rebates.
Vegetable Transplants are Here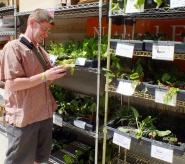 We now have organic transplants from Forest Garden Organic Farm in Maple City. Cabbage, arugula, tatsoi, and other cold weather plants. Warm weather transplants like tomatoes coming soon. $1.29/ea.
Commemorative Garden Planting at the Store • May 18, 1 - 3 pm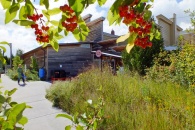 You are invited to participate in planting a new native ornamental garden. In honor of our 40th anniversary, we will plant a variety of native trees, shrubs, and perennials to beautify our property.
Learn all about: drip irrigation, landscape design, native plants, and soil amending from Steve Moore, an experienced landscape contractor. This event takes place rain or shine.
Co+op Grocery Specials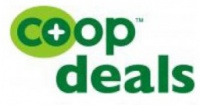 Heart Shaped Egg Toast
for Mom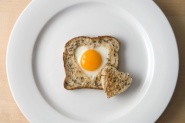 1 large egg
1 slice of bread
soft butter
salt and pepper, to taste
Heat a cast iron skillet over medium-high heat. Spread butter on both sides of bread and place in the skillet.

Very lightly toast one side of the bread. Remove from pan to a cutting board. Use a heart-shaped cookie cutter or a knife to cut a large heart out from the center of the toast.

Return bread to pan, untoasted side down, along with the cut out heart. Crack egg directly into the heart-shaped hole, sprinkle with salt and pepper and cook for 2-3 minutes, until egg just begins to set. Fry the separate heart until lightly browned on both sides and remove from pan. Carefully flip egg toast to continue cooking until desired doneness. Serve immediately with the cutout heart toast.
10¢ a Meal for School Kids Fundraiser • Friday, May 10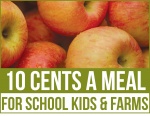 On Friday, May 10, Oryana will donate 3% of store sales to 10 Cents a Meal for School Kids & Farms, a collaborative effort of Michigan Land Use Institute's farm to school program to help area schools purchase and serve a "rainbow" of locally grown fruits and vegetables.

Schools typically have only 20 to 30¢ per meal to spend on produce. In this program, just $1 will put flavorful, locally grown fruits and veggies on the lunch trays of 10 school children for one day.
New Store Hours!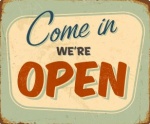 Starting June 1, Oryana will stay open until 9 p.m. and open earlier on Sunday

Mon - Sat • 7:30 am - 9 pm
Sunday • 9 am - 9 pm
Read the Latest Issue of
Natural Food News
Memorial Day Hours
10 am - 6 pm