Vote for Board Candidates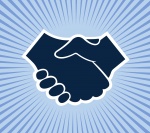 Voting for this year's board candidates has started. If you are a current member, be sure to stop by customer service and pick up your ballot. Voting runs throught April 18 at the General Membership Meeting. Make your voice heard and participate in the democratic process of your co-op. Read all about the candidates...
Community Grant Voting
Members, take advantage of your ability to help decide which local nonprofit organization will receive this year's community grant. Voting is now going on and you can get your ballot at Customer Service. Voting runs through April 15. The finalists are ISLAND, The Watershed Center, On the Ground, Peach Ranch, and Goodwill's Farm to Freezer program. Read about the programs these organizations need funds for.


New Regionally Produced Pet Food
Dr. Tim's from Marquette, Michigan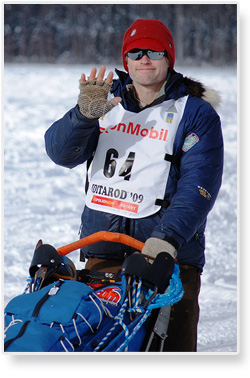 Dr. Tim Hunt is a veterinarian and accomplished musher who understood his dogs' need for a food that promoted stamina, endurance and performance through proper digestion. He set out to formulate a food that replicated a natural, wild diet for his Alaskan Huskies.

Dr. Tim's is 10% off through April. Try a FREE SAMPLE to see if your dog likes it!

Celebrate Easter with Oryana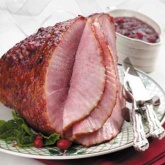 Spiral Sliced ham from Garrett County Farms $5.99/lb
Also for smaller gatherings, Beeler's boneless hams $7.29/lb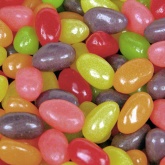 Bulk Jolly Beans are 15% off. Jolly beans are vegetarian and made with organic flavors and colors. Nothing artificial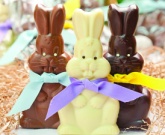 Grocer's Daughter Chocolate in Empire, MI, presents chocolate Easter bunnies! Dark, milk, and white chocolate. $6.49 Also, peanut butter filled eggs $5.49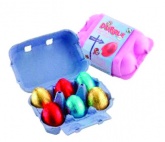 Divine Easter Egg Hunt Kit $6.99
Divine milk and dark chocolate eggs, 3.5 oz bags $7.99
Divine bunnies 3.5 oz bags $6.79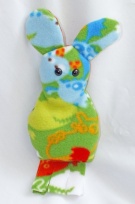 Cuddle Bunnies - Cozy fleece bunnies full of calming lavender and flax seed. $16.99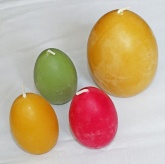 Sunbeam beeswax egg candles $3.99/small $13.99 large





Upcoming Events
Member Appreciation Days
Wednesday, April 24 & Thursday, April 25

Oryana General Membership Meeting
Thursday, April 18, 5 - 9 p.m.

Color Easter Eggs Using Natural Dyes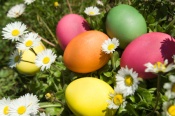 In-store Demo this Saturday, March 23 at noon. Learn to color your Easter eggs using nature's own vivid colors from fruits, vegetables and spices. Safe, beautiful and fun!
Here are some recipes for making your own naturally dyed eggs at home:
Blue - Combine 2 cups chopped red cabbage with 2 cups boiling water. Stir in 1 tablespoon white vinegar. Cool and strain.
Yellow - Combine 1 quart hot water, 1 tablespoon white vinegar, 1 tablespoon salt and 6 tablespoons ground turmeric and stir well.
Lavender - Combine 1 cup grape juice and 1 tablespoon white vinegar.
Red - Combine 2 chopped beets, 1 quart water, 1 tablespoon white vinegar, and 1 tablespoon salt in a saucepan. Bring to a boil. Remove from heat. Cool and strain.
Green - Peel the skin from 6 red onions and simmer in 2 cups water for 15 minutes; strain. Add 1 tablespoon white vinegar.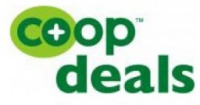 Easter Brunch Recipe
Warm Spinach Salad with
Fried Eggs
Adapted from Martha Stewart
3 tablespoons clarified butter
2 tablespoons extra virgin olive oil
1 lb yukon gold potatoes, cooked, peeled, diced small
Sea salt and pepper
2 tablespoons cider vinegar
1 tablespoon mustard
4 green onions, thinly sliced
1/2 pound baby spinach, chopped
2 oz parmesan cheese, shaved
4 eggs

In a large cast iron skillet, heat 2 tablespoons butter or ghee over medium heat. Add potatoes and season with salt and pepper. Cook until potatoes are browned, about 10-15 minutes.

Whisk olive oil with vinegar, mustard, green onions, salt and pepper in a large bowl. Add the spinach and parmesan (don't toss.)

When potatoes are nicely browned, pour into the bowl with spinach and dressing. Toss until the spinach is slightly wilted. Divide among 4 plates.

Heat the skillet over medium and add the eggs. Cook until whites are almost set, about 1 minute. Cover, turn off heat, and let stand until whites are just set but yolks are still soft, about 2 more minutes. Top each salad with an egg and serve immediately.
Adventures in Ecuador

Read our latest blog entry about cocoa production that 2 of our staff observed on a trip to Ecuador this March.
How to Make Chocolate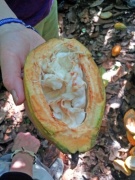 Check out this short video on the chocolate making process from harvest to bar. Compiled from photos and videos shot in Ecuador by our staff.
Quote of the Week

"If our health care system were its own country, it would be the 6th largest economy in the world."
~ Business Insider
Take Action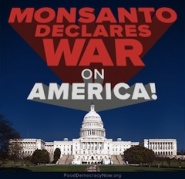 Last night the Senate passed Section 735 aka the "Monsanto Protection Act." This dangerous provision is an industry ploy to continue to sell GMO seeds even when a court of law has found they were approved by the USDA illegally. Please take action to stop the Monsanto Protection Act.
QUICK LINKS
Lake St. Cafe
Events
Wellness Specials
Produce Specials
Bulk Specials